SSSF VOLUNTEER Underdrain COMMITTEE
Committee Members include Clay Archer, Russ Paskoski, Bradley Hornsby, Lucy Archer.
Trustees added on May 11, 2020: Chris Bachman, Hunt Williams, Megan Williams.
---
— Types of natural water in Silver Springs Community:
---
2)___Artesian springs and artesian wells.
Water issuing under pressure

from a fissure

.
The amount of upward pressure adjusts with the  level of the ground water table.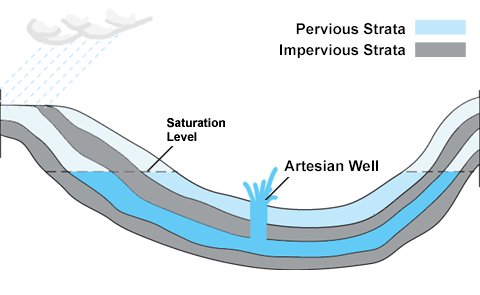 Usually occur as smaller, non-flow, pond areas fed by soft spots, and holes in the substrata.
---
3)___Subterranean Water aka (under) ground water aka water table, aka aquifer.
An aquifer is an underground layer of water-bearing bowl-like permeable rock that may include fractures or unconsolidated materials (gravel, sand, or silt). Subterranean groundwater can be extracted using a water well. Deeper subterranean water varies in its permeability and yield depending on the saturation level of stored water in the aquifer and the water's ability to move through rock strata layers in response to the force of gravity.
The level of water between 6′ and 10′ below the ground surface is the water associated with  the SSSF underdrains.  This type of water ebbs and flows underground dynamically, making its movements erratic and unpredictable to locate all its branches, or control with the use of  stationary 6″ diameter plastic tubing installed underground at a 6′ to 10′ level plane.
Ground water is unreliable flow seasonally moving up and down and sideways, not at reliable speed, depths or conforming intervals.
Since 2005 Silver Springs water levels have continually dropped with the advent of drought conditions Statewide and locally.  This loss has left the majority of Silver Springs water resources and the underdrains dry and inactive.
---
1982-06-25 – Silver Springs East Developers HOA Agreement with Summit County.
The 1982 Developer's SSHA CCRs Article IX. Easements. Section 3: Easements for installation and maintenance of utilities and drainage facilities are reserved as shown on the recorded tract plat and over the rear and side five feet of each lot. " Restricted uses of the five feet are listed, no use allowed "which may change the direction of flow through drainage channels in the easements or which may obstruct or retard the flow of water through the drainage channels in the easements. [Underdrains alter the direction of flow.] The easement area of each lot and all improvements in it shall be maintained continuously by the owner of the lot, except for those improvements for which a public authority or utility company is responsible."
The State Water Engineer has not issued any stream alteration permits allowing modification of the course or volume of water that flows through the subdivision streams or its underground water table. It is illegal to do so without State authorization and permits.
The Developer was also required by Summit County to incorporate the revised Federal Water Pollution Clean Water Act from October 18, 1972.  This act wanted all development to control the quality of the water running from one area to another.  Some of its provisions, such as those involving filling or dredging, were administered by the U.S. Army Corps of Engineers.  The SS Developer was required to include in his plans a system of channels and retention ponds (the lakes), particularly due to the physical nature of his development land.
_____________________________________________________________________________

We have been asked for many years why is the owner of Lot 27 is so insistent on reversing the Homeowners votes to NOT pursue the controversial underdrain work 6′ to 10′ below the surface.  Here are the aerials of the location of a seasonal swelling of a two-armed stream.
Board trustee Hunt Williams and his wife learned of an aerial photographing survey company who had a cache of aerial photographs that had caught the early development characteristics of Silver Springs.  The earliest we have are from 1975 before dredging began.  By 1987 many of the condos were in progress, along with some of the SS houses.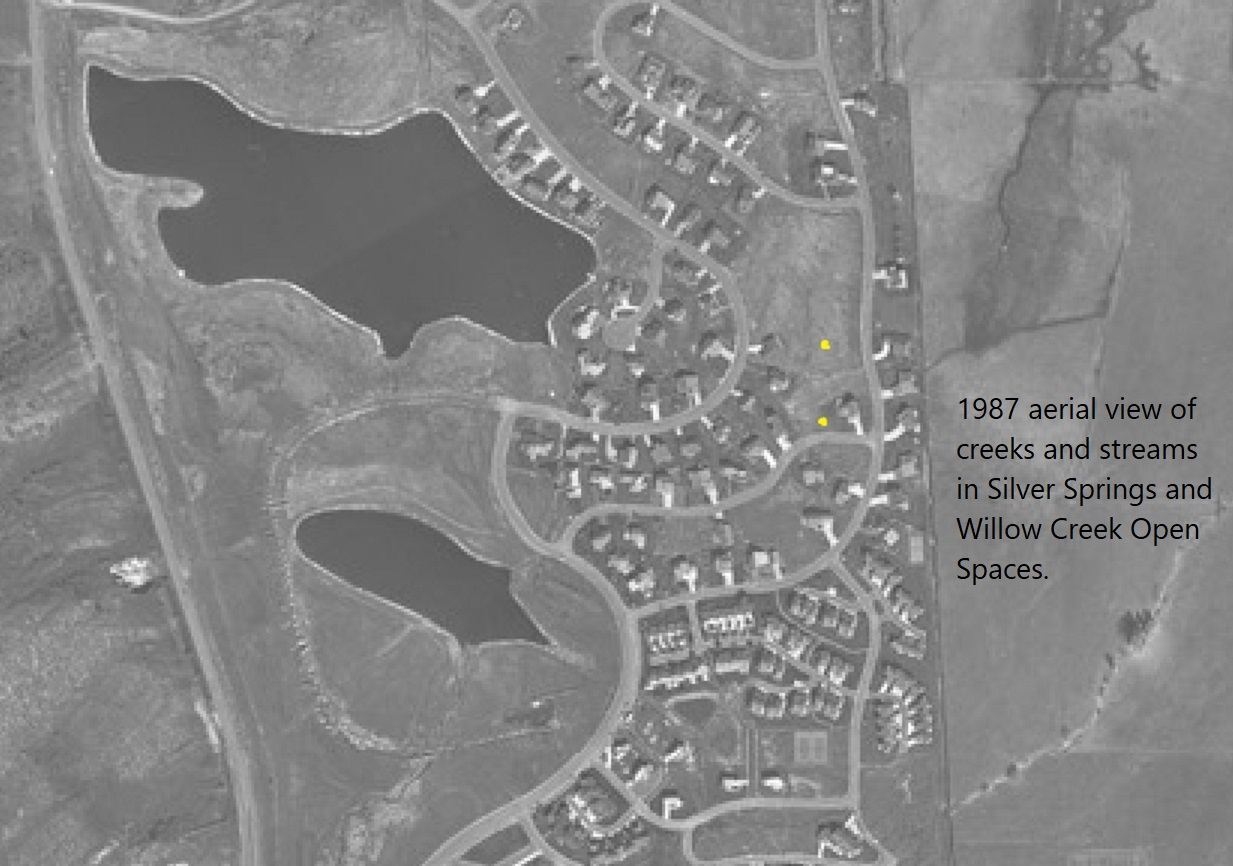 1987– The two yellow dots indicate the area of the creek longtime Homeowners remember.  This aerial photograph shows the creek splits and both arms are between Lot 26 and on Lot 27.
The top north arm of the creek appears to be directly located under Lot 27's foundation.
Follow the north arm under East Meadows Drive to the dark line (creek?) in the Willow Creek Open Space.  You should be able to open the above image to enlarge it.  We have a higher resolution version of this map with more details.
The house on Lot 27 was built on/over one arm of the small creek spreading the water.  Link to 1989 map showing houses built over the creek.
The underdrains really haven't helped the affected adjoining lots because they are 6′ to 10′ underground collecting water via plastic 6″ diameter tubes.  The surface water has to penetrate down to the tubes to be redirected.
Each spring surface snow melt is continuing to collect water, just below the surface.  Megan Williams who has studied city planning has written a report regarding the effects of covering up a creek without providing an outlet for its energy flow.  The Williams' plans are to deliver her report soon to the board.
See 1979 Special Notice to builders and homeowners. Houses built over a stream bed will benefit from individual French drains around each of their foundations.  Other methods suggested at the site below: Ideas for Your Home and Yard.
---
---
— How the UNDERDRAINS ARE EXAMINED, AND HOW THEY ARE CLEANED OUT… with photos.
---
— 1986 -U.S.G.S. Technical Publication No. 85 "Water Resources of the Park City Area, Utah With Emphasis on Ground Water"  by Walter F. Holmes, Kendall R. Thompson, and Michael Enright.  70 pages.  Last Modified: December 13, 2016 09:32:51
— 1998 –Hydrology & Snowmelt of Snyderville Basin, etc. Publication 115, 93 pages. Dept. of Natural Resources & Div. of Water Rights. 1998-Hydrology-snowmelt-SnydervilleBasin-USGS.pdf   Prepared by Ted Stewart, Robert L. Morgan.
— 2006, Follow the Water by Matt Lindon   Matt wrote this article without mentioning or including the underdrains.
— 2007,  Marquis Construction Co. Bid from Norman Jessup for repair of drain pipe at Lake Front Court intersection at Silver Springs Road
— 2014, Sept. 11,  THE SUMMIT COUNTY ATTORNEY WROTE TO THE TRUSTEES THAT THE OWNERSHIP AND MAINTENANCE OF THE UNDERDRAINS IS A PRIVATE MATTER BETWEEN THE LAND OWNERS AND THE OWNERS' ASSOCIATION.
THE TRUSTEES ARE REQUIRED VOTED AUTHORIZATION FROM THE HOMEOWNERS ON WHETHER TO IGNORE THE UNDERDRAINS OR MAINTAIN THEM.  IN 1985, 1994, 2008, 2014, 2015, 2019 (twice- Jan. 31 and Oct.8)…. THE HOMEOWNERS VOTED TO IGNORE THE UDs EVERY TIME.
AND DEFINITELY TO NEVER PLACE THE UNDERDRAINS UNDER THE AUSPICES OF THE ASSOCIATION!
— 2014, October 14, Two underdrain manholes (6A and 11A) are raised to grade by fabricator hired by Hovey.
— 2018, November 13 letter by Matt Lindon to ModelHOA Ticket 189.
— 2019, March 29 Report by Russ Paskoski
— 2019, October 8, Russ Reporting at SSSF Annual Meeting
— 2020, February 5, Report to Homeowners from Clay Archer
— 2020, February 19, Underdrains Meeting. Russ, Clay, Noland, Allyson of Model HOA. Via telephone, Paul.
It was agreed the underdrains change the natural direction and area of flow thereby creating more water problems than may naturally occur.
It was discussed strategically, this Spring, placing sand bags at the bottom of some manholes of the upper Section A underdrain system would equalize water distribution from these upper 64 lots to reduce the collected downward flow to the center of SSSF where it seasonally creates pooling within various lots such as 67, 68, 70. This would also maintain ground water in Section A for the benefit of the now drought stressed large trees maturing in the upper elevation lots 1-64.
It was agreed by attendees not to use Model HOA for the underdrains as it would be an intrusion and unwarranted cost, and especially to keep this committee as a volunteer group outside of the auspices of the HOA, the board, and the president's agents.
— 2020, March,  Notes and Report by Clay Archer
— 2020, March 24,   Facebook Post @ Silverspringscommunity
The annual clean-out by Pro-Pipe for a couple areas of the underdrain system are scheduled each spring.  These areas are generally where the winter run-off becomes ground water that is accumulated by UD Segment A.  At some point Segment A collections overwhelm the outflow at Manholes 6A, 8A, 9A, and one or two others. The only discharge outlet for the entire system is at 6A.  6A is connected to a large PVC pipe at an east direction that allows discharge via the "Daylight" end of the pipe where the accumulated water flows out to Willow Creek.
This outlet was inspected last week, it was found to be discharging water at a much slower rate than in 2019 … Contact neighbor volunteers, Russ Paskoski, Clay Archer and Bradley Hornsby to inspect particular areas of concern.  Trustees Hunt Williams and Chris Bachman can also be contacted.
There will be a fuller report available for the HOA Board meeting on May 11th, 2020.
— 2020, April 4,  2020-04-04-UD-inspection-Clay-Russ-report and 2019 Plat B  Amendment map
—2020, April 29,  Inspection of eight UD Segment A, Man Holes 6A, 8A, 9A, 10A, 11A, 15A, 16A, 17A.   Megan Williams announces a report on the underdrains she is preparing,  hoping the board won't "redact or sanitize it in order to minimize her findings and continue to force their ongoing glorification of the under drain maintenance at the insistence of a few."
–2020, May 4, Photos of UD system
2020-May 4-bhornsby-SilverSpringUnderdrainSystem
— 2020, May 5,  Inspection Report by Bradley Hornsby, with photos by Clay and Lucy Archer, and Bradley Hornsby.
—2020, May 16,  Photos of SSSF UD Segment A Pages 1-3,   Manholes 1A to 5A.  Researched by Clay and Lucy Archer 2000-2020.
—2020, May 16,  Photos of SSSF UD Segment A Pages 4-6,  Manholes 6A to 9A.  Researched by Clay and Lucy Archer 2000-2020.
—2020, May 16,  Photos of SSSF UD Segment A Pages 7-9,  Manholes 10A to 15A.  Researched by Clay and Lucy Archer 2000-2020.
—2020, May 16,  Photos of SSSF UD Segment A Pages 10-11,  Manholes 16A to 17A, RP-C.  Researched by Clay and Lucy Archer 2000-2020.
—2020, May 16,  Photos of SSSF UD Segment B  Pages 1-4,  Manholes 1B to 3B and Parcel T.  Researched by Clay and Lucy Archer 2000-2020, and Bradley Hornsby.
—2020, May 16,  Photos of SSSF UD Segment B Pages 5-8,  Manholes 4B to 10B.  Researched by Clay and Lucy Archer 2000-2020, and Bradley Hornsby.
–2020, June 18. Inspection of the two Storm Drain boxes w/photos; Ranch Place (road).  Researched by Clay and Lucy Archer, and Bradley Hornsby.