Parcel F – Big Pond
---
Parcel F: 

  SILVER WILLOW POND – 20.84 ACRES
---
This pond is 20.84 acres in size.  Water Storage Capacity: 140 acre ft.
Silver Springs Associates transferred title to this pond on October 9, 1991 to Silver Springs Water Company.  SSWC sold their water rights in this pond to Mountain Regional Water on December 11, 2002.  These water rights maintain the pond capacity and flow. When Mountain Regional transferred the Lakes/ponds land, liability, and maintenance costs to the SSMA on June 23, 2004 MR retained the water rights.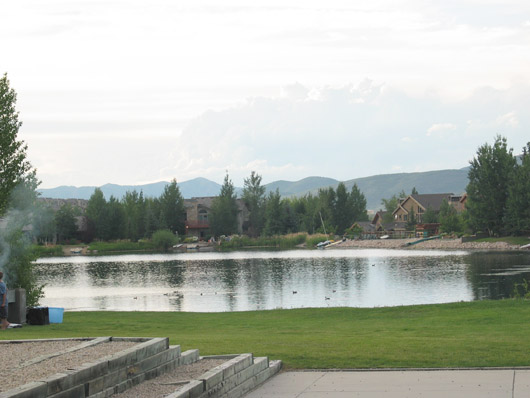 View toward north from basketball court at Park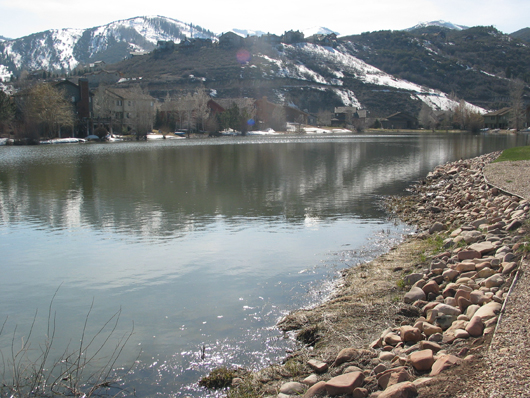 Lower Pond Dam runs the entire north beach area and to Rip Rap (Enjoyment Easement) wherever the Exclusive Private Enjoyment Easement Agreement applies that property does not belong to the SSMA but does belong to the subdivision or private property owners.
Also view https://www.silverspringscommunity.com/lakes-in-silver-springs/silver-springs-dams/
for lake dams cost and liability imposed on unsuspecting SSMA Members.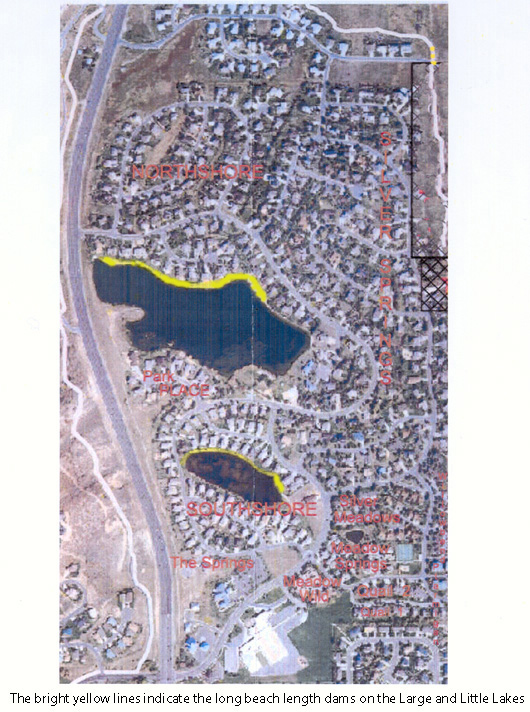 Large pond is 913,717 SF;  Small pond is 225,488 SF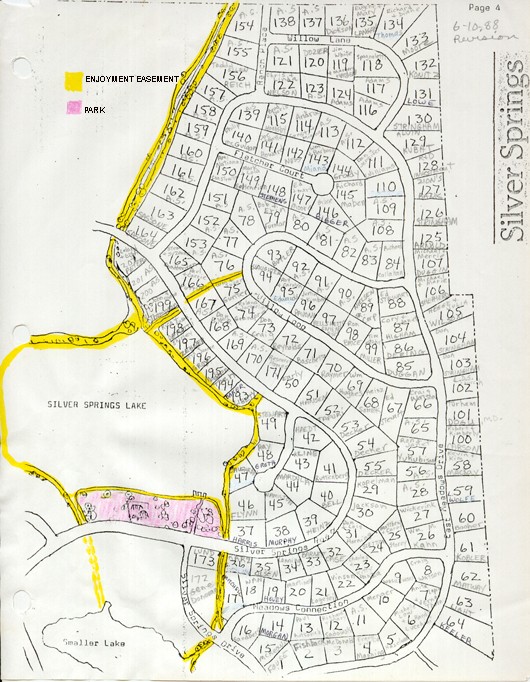 1982-1988 Enjoyment Easement map
Represents easements when lakes/ponds were property of Silver Springs Water Company.
1982 – Yellow areas on map are route of original Community Enjoyment Easements and all residents had access to all waterways. Silver Springs residents had big pond entire perimeter access = 4,221.71 linear feet X 15-25′ wide and access to entire perimeter of little pond/smaller lake.
– Pink area is the Community Park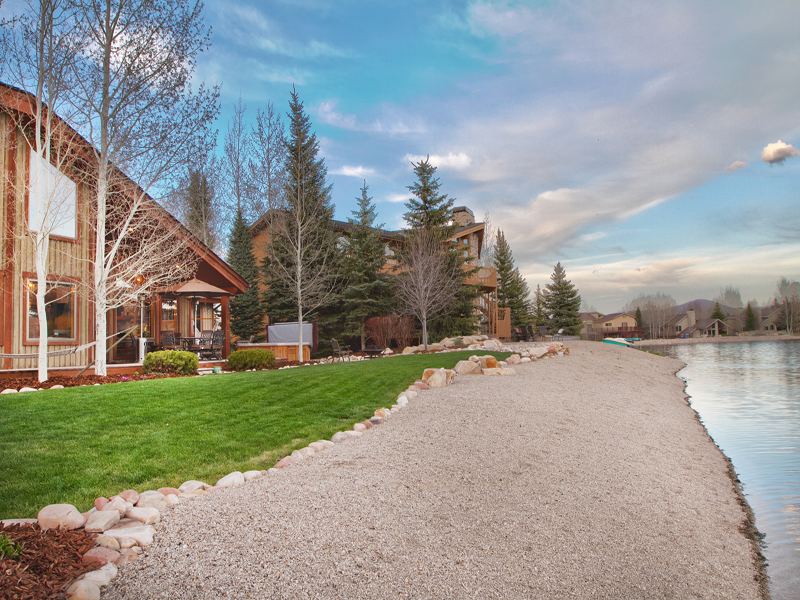 PERIMETER ENJOYMENT EASEMENT WAS INTENDED FOR USE AND ACCESS BY ALL THE COMMUNITY PROPERTY OWNERS IN 1982.   BARNES AND WIDDOWS DEEDED PORTIONS OF THE SILVER WILLOW LAKE EASEMENT AND MOST OF THE SILVER WILLOW POND EASEMENT TO THE ADJACENT LOT PROPERTY OWNERS.  THE MA WITH THEIR DRAFT 1989 BYLAWS HAVE YET TO CORRECT THE ASSESSMENTS CHARGED TO ALL 500+ PROPERTY OWNERS WHO NO LONGER HAVE USE OR ACCESS TO THE EASEMENTS.
IN NOVEMBER 2013 THE MA HAD ACCRUED A QUARTER OF A MILLION DOLLARS TO MAINTAIN THE SMALL MA COMMON AREAS.

1988 – August 23 – Minutes of the Planning Commission for Meeting – Jerry Tulley, one of original planners of Silver Springs with Webster and Associates from 1979-1983.  Tulley said the lake front lots were priced as premium lots.  Mr. Tulley said at one time there was a path system around the majority of the lake in the master planning, as consultants were brought on line discussing marketing, property values and liability to the water company it was decided to omit the pathways, specifically those areas  adjacent to the lots.  …The original intent was that these lots owners would have privacy along the lake. …It was decided that lake access would be limited to controllable areas…Mr. Tulley said this was one of the few parcels (H) that was intended to be access for the homeowners to the lake. (the 444′ along the Park Parcel H).
---
---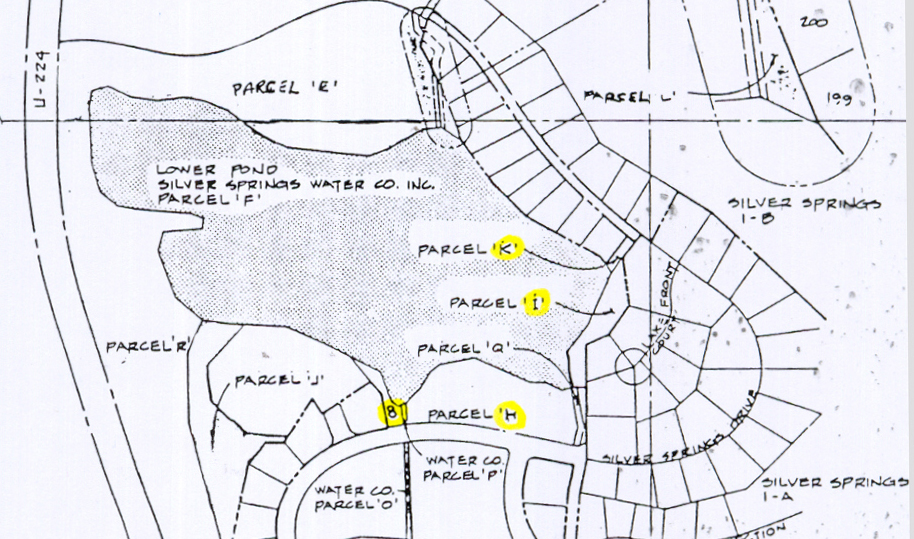 Lower Pond Parcel F is the shaded area in the center of this 1986 American Savings plat.
---
---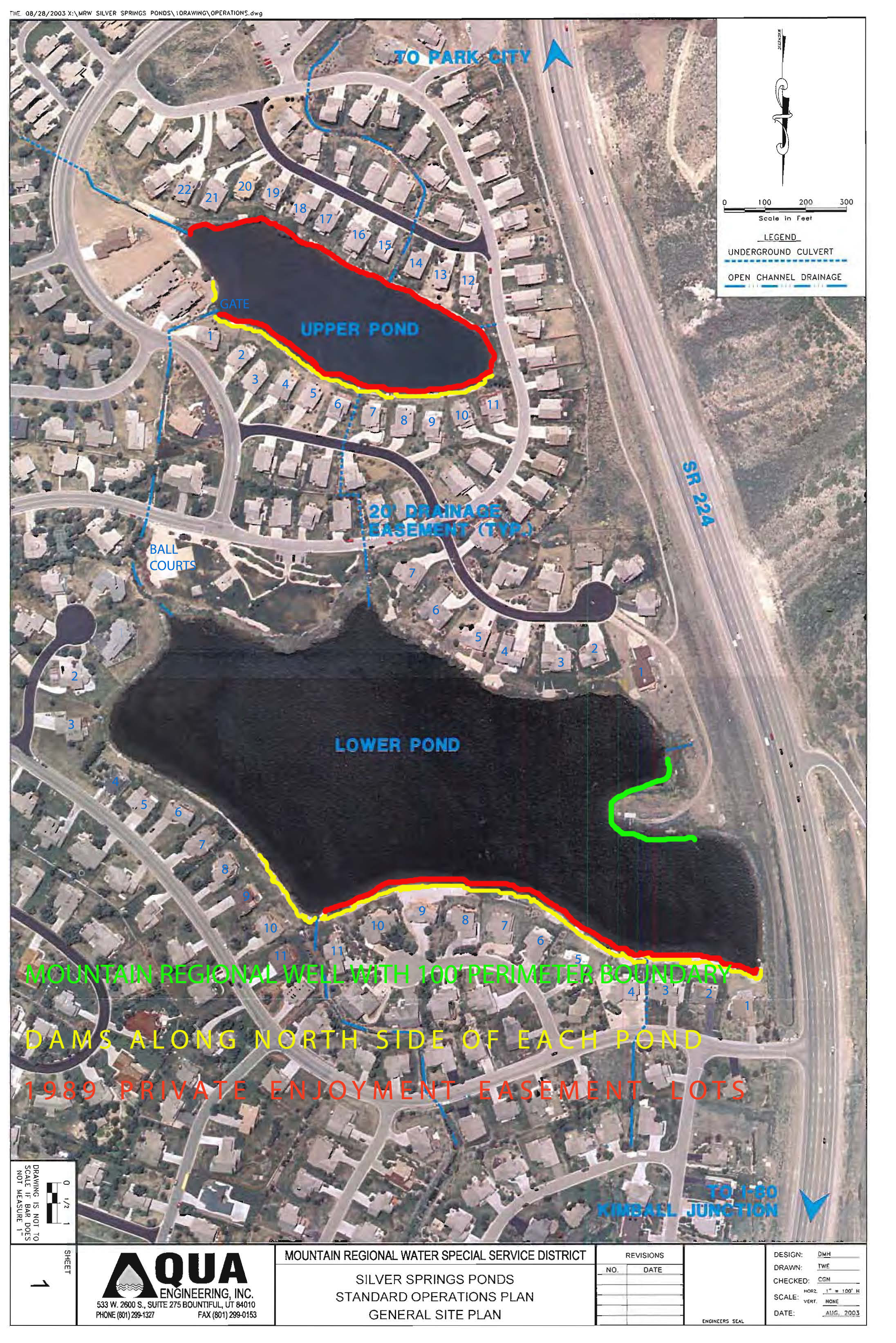 1989 – Silver Willow Pond (Little Pond) is surrounded by a 1989 Exclusive Private Enjoyment Easement Agreement that was recorded on the 1991 SouthShore subdivision plat map.  This Agreement provides access and use of the perimeter of either lake only to the 22 small lake view lot owners in Southshore and the 11 NorthShore large lake view owners. Fifty-one houses in all have lake views, 33 of those are subject to the Exclusive Private Enjoyment Easement recorded by developers Barnes & Widdows.
1991 – Silver Springs residents big pond shore access was reduced by above Easement Agreement and Plat recordings to only being open at community park's  444′ linear foot beach plus Park Place when Barnes & Widdows recorded their Southshore and Northshore plats. The small pond was off limits except to the small pond view property owners.  The SS Little Lake subdivision on the east shore of little pond has six homes that were not included in the 1989/1991 Exclusive Enjoyment Easement Agreement.
2003 – Mountain Regional transferred ownership of the ponds "ground" to SSMA, while retaining the water rights.  These actions were taken without the knowledge or vote of the Silver Springs property owners who are now on the hook to pay for maintenance, repairs, insurance, management, chemicals, etc. and are held liable for safety and damages though their access and use of these "amenities" is very limited.   Use and access to large pond eastside easements by ALL SS property owners is denied, veiled and conflicted. Eleven Silver Springs Single Family Subdivision pond view lot owners have cut off access to other property owners.  Access routes to the pond easement has been absorbed into their private property.  Four of these owners petitioned the Master Association around August 2010 to sell to them the pond easement adjoining each of their properties.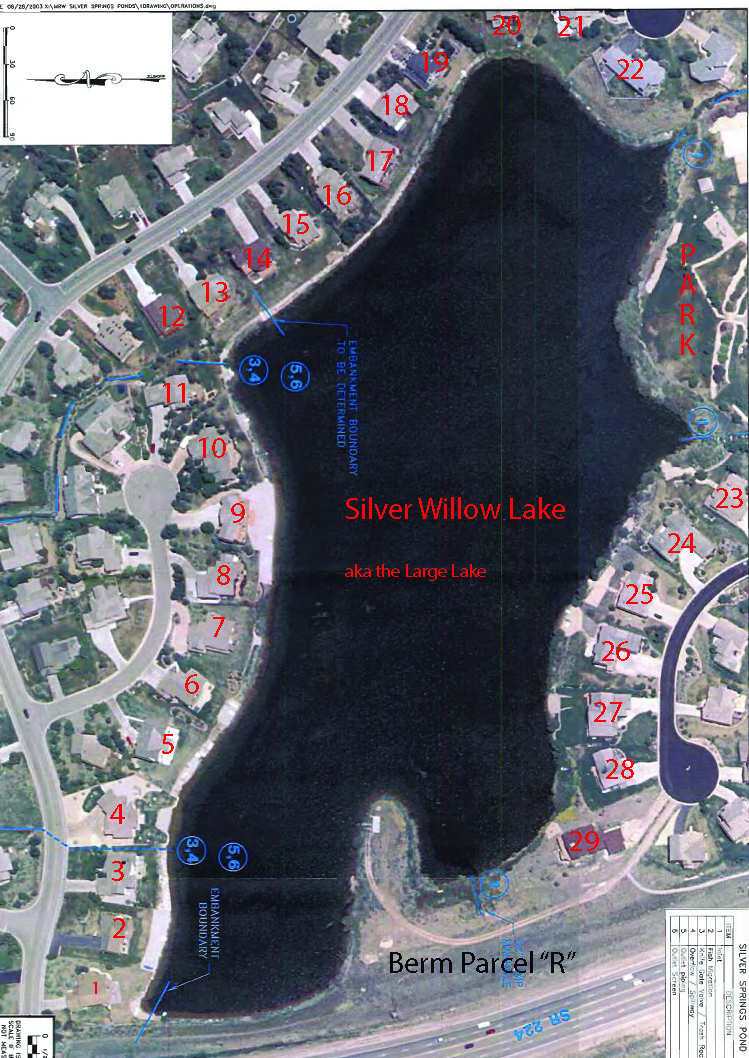 ---
2005- July  Silver Willow Lake Drained to remove tons of goldfish.
2005–The Master Association spent $145,000 to repair lake gates and dams, to eradicate goldfish, and to improve water quality, in the lower pond/large Silver Willow Lake. This expenditure was not voted upon nor approved during a General Membership meeting of the approximate 504 owners as specified by the Bylaws. The Master Association's primary function is to care for common areas. It is a concern that the 2004 newly transferred lakes were in such great need of repairs and clean-up. The Klinefelder Lake Report had provided a list of items that needed to be repaired.  A further concern is that the MA Board did not follow the MA Bylaws and did not request input and a vote from the General Membership for the assessments requested by the MA Board of Trustees.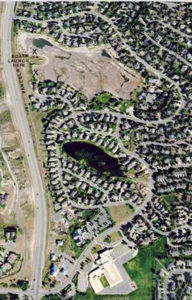 2005 Google aerial photo of "Silver Willow Lake", drained. Visible at top left is the deepest area of the large lake (Parcel F).
Also visible are the several artesian springs that help fill this lake via our underground natural water.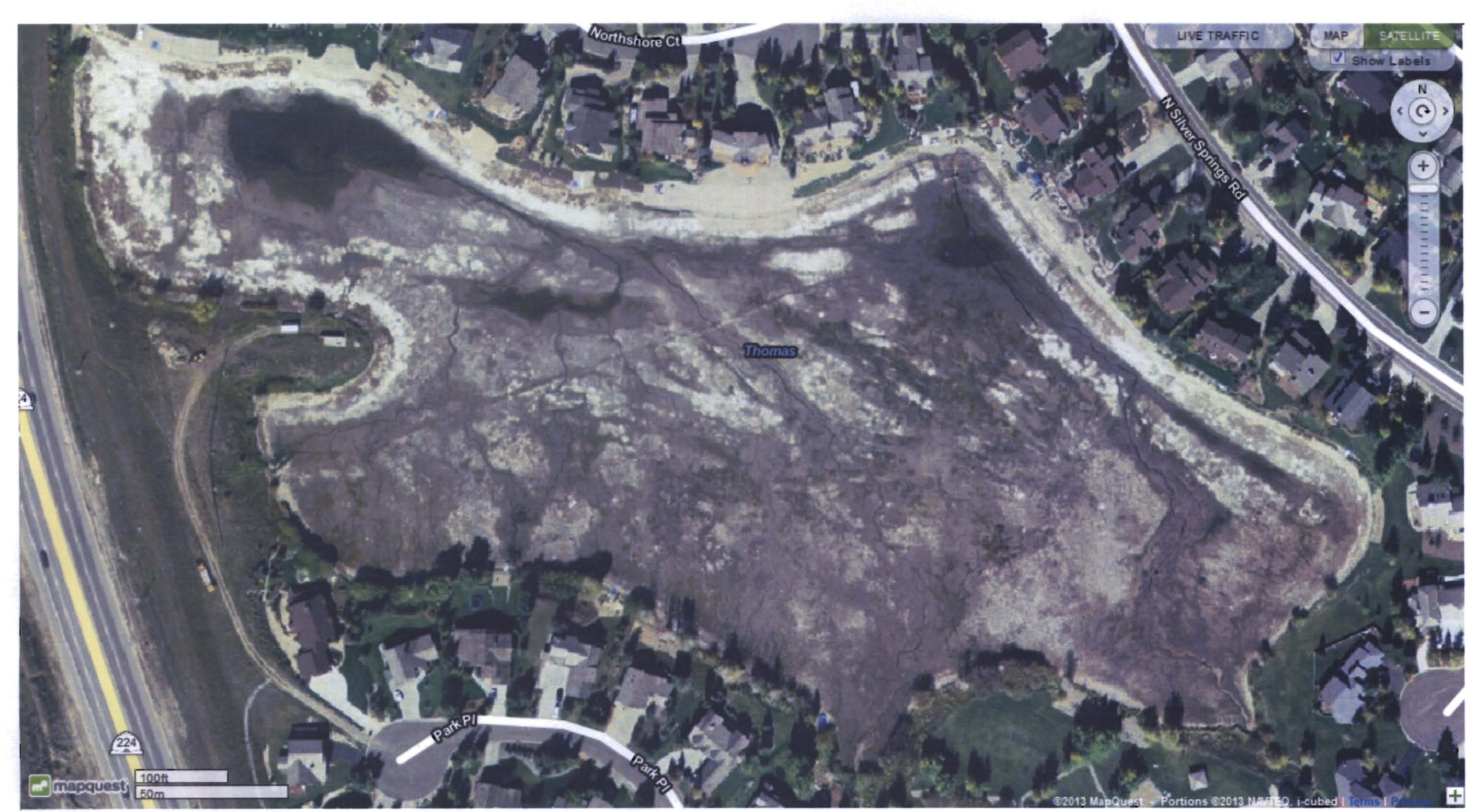 ---
A.k.a. the Lower Pond – 29 residential units around its perimeter.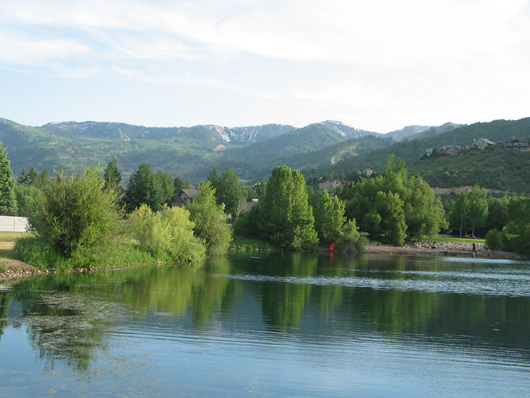 2008 – Silver Springs Park viewed from north side of Silver Willow Lake
Account 0216584
Parcel Number PP-98-A-10   Tax District 10 – PCSD A,J,K,U (C-C) (E-E)
 Acres 20.84
Legal S 30 T 1S R 4E BEG AT A PT WH IS N 2079.16 FT & E 1148.18 FT FROM THE SW COR OF SEC 30 T1SR4E SLBM; TH N 22*00′ W 163.00 FT; TH N 19*00′ E 60.00 FT; TH N 82*00′ E 116.00 FT;TH N 25*00′ E 31.00 FT; TH N 68*00′ W 42.00 FT; TH N 86*00′ W 168.00 FT; TH N81*00′ W 67.00 FT; TH N 51*00′ W 67.00 FT; TH N 20*00′ W 101.00 FT; TH N 2*00′ W 179.00 FT; TH N 9*00′ E 56.00 FT; TH N76*00′ E 49.00 FT; TH S 65*00′ E 81.00
FT; TH S 82*00′ E 91.00 FT; TH N 84*00'E 82.00 FT; TH S 82*00′ E 72.00 FT; TH S 66*00′ E 70.00 FT; TH S 55*00′ E 163.00 FT; TH S 71*00'E 74.00 FT; TH S 84*00'E 153.00 FT; TH S 88*00′ E 95.00 FT; THN 76*00′ E 75.00 FT; TH N 63*00′ E117.92 FT; TH N 81*00′ E 50.40 FT; TH S63*00′ E 68.00 FT; TH S 36*00′ E 194.00 FT; TH S 43*00′ E 122.00 FT; TH S 59*00′ E 111.00 FT; TH S 63*00′ E 161.00 FT; TH S 37*00′ E 53.11 FT; TH S 24*00′ W 188.34 FT; TH S 38*00′ W 105.13 FT; TH S 9*00′ E 111.00 FT; TH S 73*00′ W 36.00 FT; TH N 64*00′ W 57.00 FT; TH N 88*00′ W 58.00 FT; TH N 65*00′ W 188.00 FT; TH S 77*00′ W 108.00 FT; TH S 49*00′ W 32.00 FT; TH S 27*00′ W 61.00 FT; TH S 46*00′ W 69.00 FT; TH S 70*00′ W 22.00 FT; TH N 57*00′ W 27.00 FT; TH N 21*00′ W 101.00 FT; TH N 60*00′ W 176.00 FT; TH N 69*
00′ W 164.00 FT; TH N 88*00′ W 168.00 FT; TH N 83*00′ W 91.00 FT; TH N 51*00′ W
98.00 FT TO PT OF BEG CONT 20.8208 AC; ALSO BEG AT A PT WH IS N 2346.96 FT & E
1195.67 FT FROM THE SW COR OF SEC 30 T1SR4E SLBM (BASIS OF BEARING BEING N FROM THE SW COR OF SEC 31 T1SR4E SLBM ALONG SEC LINE TO THE AFOREMENTIONED SW COR OF SEC 30); & RUN TH S 68*00'00" E 42.00 FT; TH S 25*00'00" W 31.00 FT; TH S 82*00'00" W 16.00 FT; TH N 12*14'45" W 47.13 FT TO THE PT OF BEG CONT 0.02 AC BAL 20.84 AC M232-427 628-114 1495-10371634-757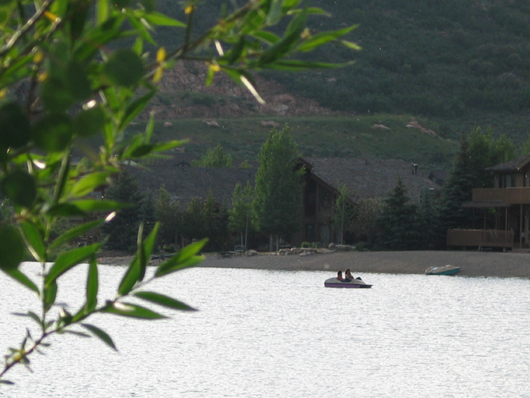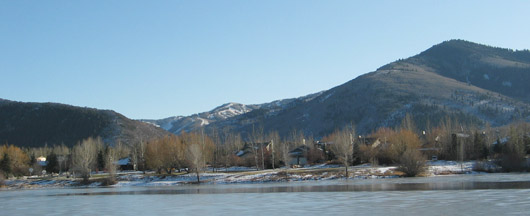 December 2009 – after Park pruning and removal of many trees and shrubs.
What took twenty years to grow was destroyed in hours.
---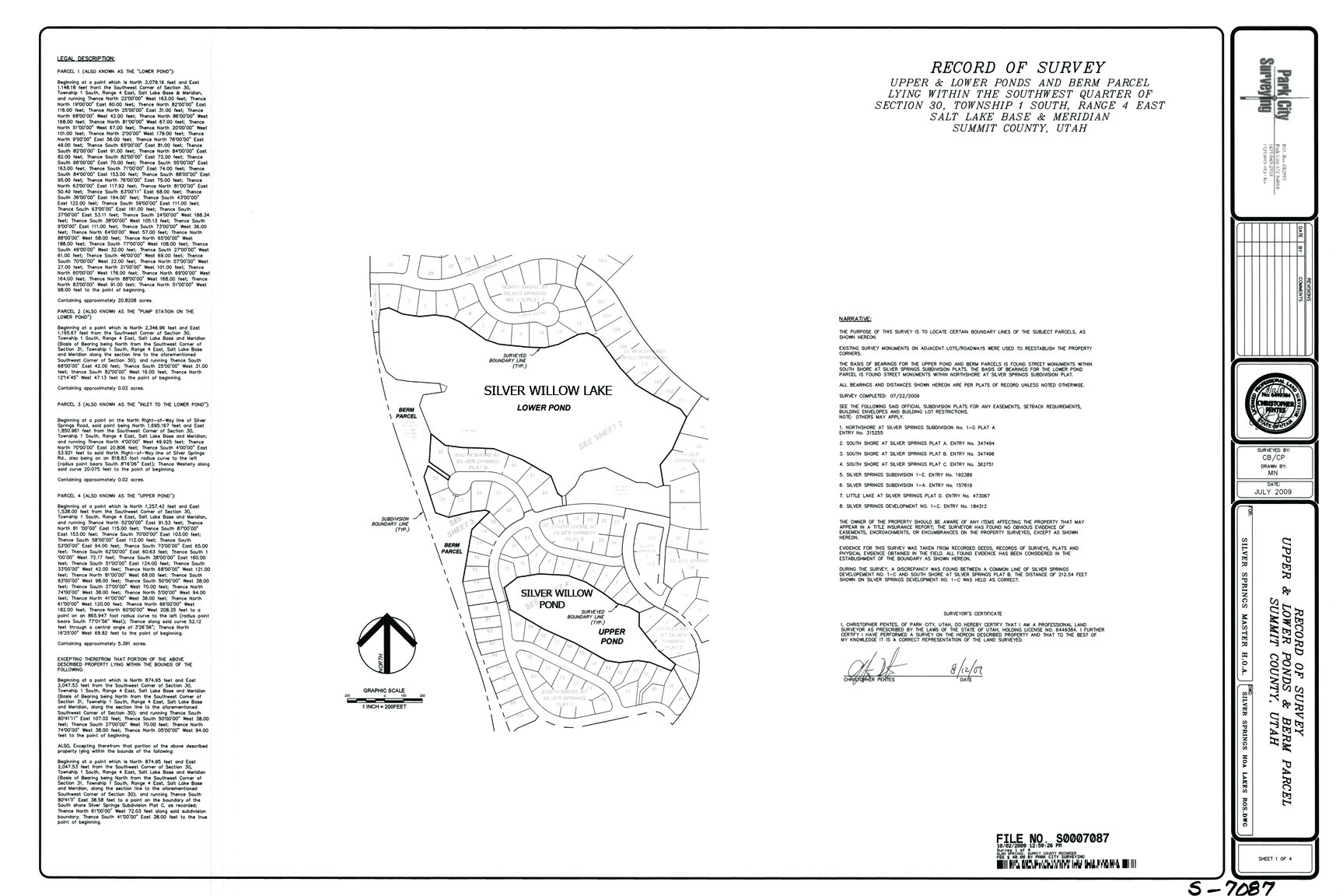 ---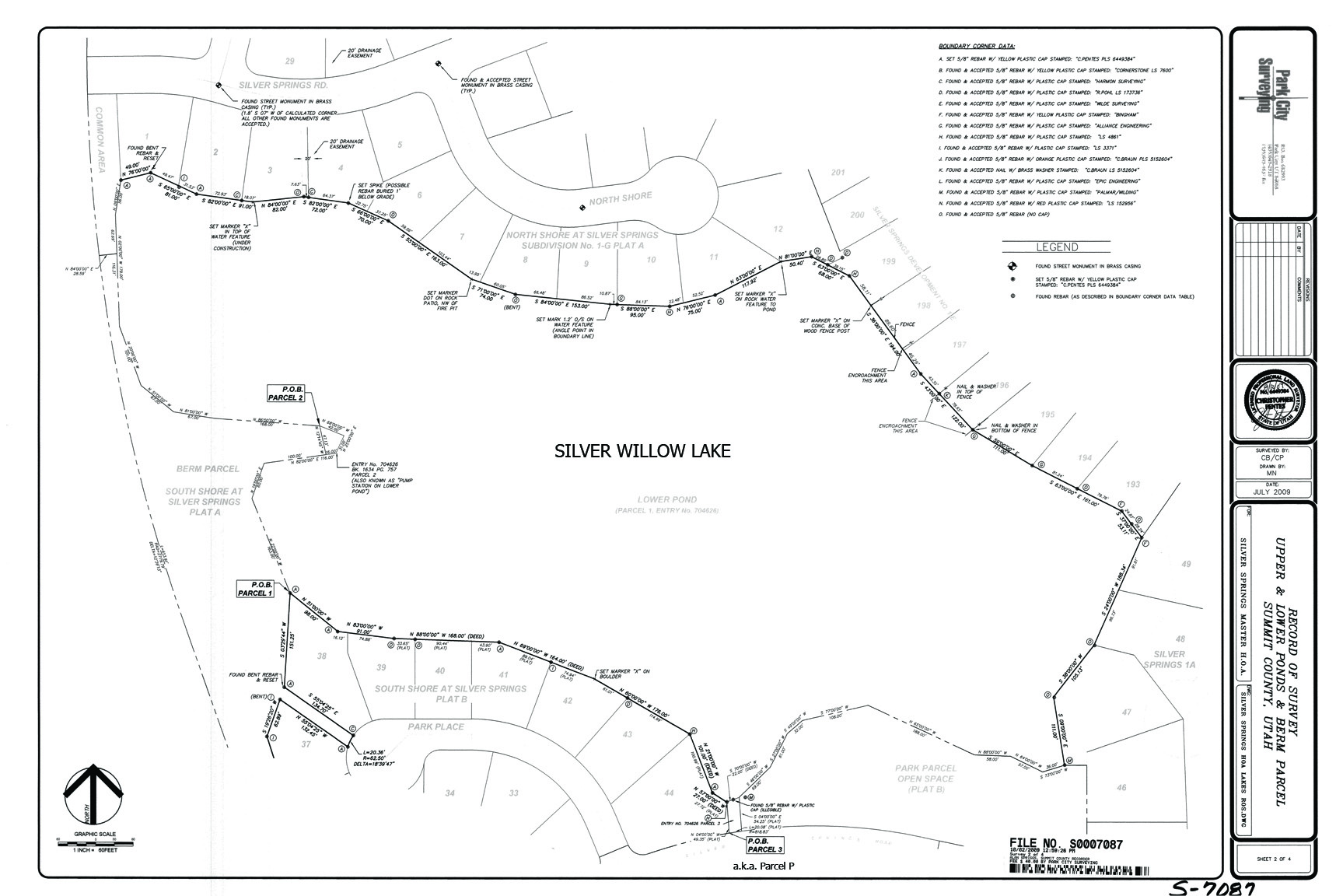 2009 October 2 Survey Map; includes encroachments; why doesn't it include easements?

---
2010- December 10 – Lakes Enjoyment Easement – At this SSMA meeting Bill Noland announced that the attorney's he hired to research the Silver Springs documents have found that the 1989 Enjoyment Easement Agreement around the Little Lake runs with the land and is a valid Agreement from the developer to the purchasers of the lake front properties and their successors for the use and access of the perimeter of the lake. The six Little Lake homes located on the east border of the Little Lake along Silver Springs Drive, and annexed in 1997 as part of the SSSF subdivision, are not included in this Agreement as these six lots were not part of the (Mike Barnes) developer's property. View at: https://www.silverspringscommunity.com/our-community/silver-springs-sf/little-lake-at-silver-springs/
The same situation exists for the Large Lake in that the seven homes along the east border of the lake are part of Silver Springs Single Family since the beginning in 1980 and were never part of the developer's (Barnes') Enjoyment Easement Agreement.  Therefore the 1989 Agreement does not guarantee use and access to lake front properties SLS-E Lots 192-199  https://www.silverspringscommunity.com/wp-content/uploads/phases-a-e-color530pxxx.jpg
2011- August 11– Big Lake Due for Lower Level– If a lower Big Lake is noticed during early August, that's the result of necessary reshaping of the lake's dam.  To comply with State of Utah requirements for proper "facing," the dam will undergo appropriate re-construction work probably beginning the second week of this month, according to Master Home Owners Assn. reports.
The project will require lowering the water level by approximately two feet, the report stated. Since this year's snow melt run-off has assured a normal depth for the two neighborhood lakes, a two foot reduction is not considered serious either for appearances or recreational use. It is estimated the current level could be restored following dam work completion.
Does this mean there is again all Member access to the entire perimeter of the  ponds/lakes along the back line of the lake view lots? William "Bill" Noland, non-elected "president" of the MA would not answer this question.  [Read on SSMA December 10, 2010 Minutes.]
---
ARE THE SILVER SPRINGS COMMUNITY LAKES HEALTHY?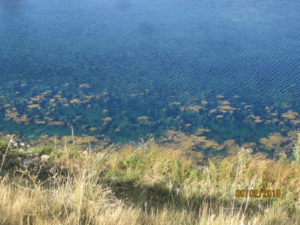 Cocktails of chemicals and a dozen aerators have not effectively controlled the lake's water plants.   These two nutrient-rich lakes (nitrogen, phosphorous, potassium fertilizer are continually draining from lawns into the lake).  An example of plants firmly fixed here are the  Eurasian Water Milfoil, a submersed, rooted, perennial herb, forms thick stands of tangled stems and vegetative surface mats. It produces many whorled, finely divided leaves upon nearing the surface. The plant can interfere with recreational activities such as boating, fishing and swimming and can often crowd out important native plants. As with most invasive species, prevention is the best means of containment. Once Eurasian water milfoil invades a body of water it is almost impossible to eradicate it. Herbicides and mechanical harvesting are often used to control infestations of water milfoil.  Another lake plant is Coon's Tail – Ceratophyllum Demersum.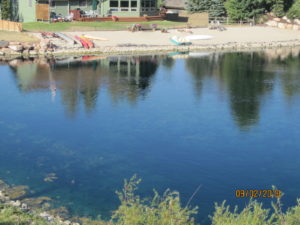 Years of repeated doses of gallons of blue dye don't hide what is in the lake water.  The dye gives a false impression of the health of the lakes.  The introduction of sterile cutthroat trout is repeated when enough trout are found dead along the banks; they are unable to survive the plant infestations and the foul chemicals. Signage: "No Swimming Allowed."
---
---
---