¤ HISTORY – Our Community
History of NW Summit County Locations & Homes
History of NW Summit County People & Events.

---
Silver Springs Community History

---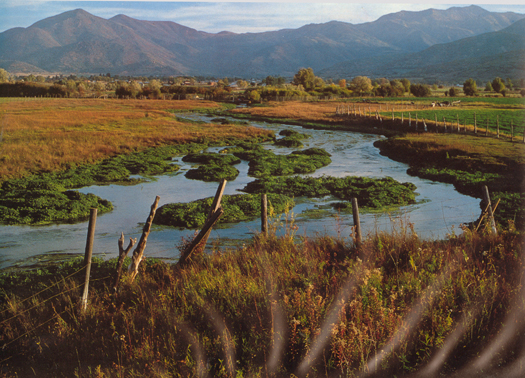 Silver Springs – east side – Willow Creek c. 1976 – [Moose Valley Basin in 2012]

Hundreds of years before the white man entered this area Shoshone Indians camped near Hoytsville.  Northern Shoshone and Ute Indians lived in Summit County.  The high mountain summits that form the divides of the Weber, Bear, Provo, and Green River drainages and contain 39 of Utah's highest peaks is why the county of Summit received its name.
Fur trappers and traders first came through the county starting in the 1820s. Jedediah Smith, Jim Bridger, and Kit Carson all camped at the numerous springs near Peoa. In 1825 William Ashley's party of trappers rode across the Kamas Valley to the Weber River, and on to Echo Canyon and Wyoming.
1700-1845 – There are indications that Spaniards and Mexicans explored Utah and Summit County. One trapper-explorer, Miles Goodyear, purchased a Mexican Land Grant in 1845 that extended to northern Ogden. Indicating the range of the early Mexican explorations.

1848 – Beginning on June 30, 1848, Parley Parker Pratt rode up Canyon Creek Canyon (now Emigration Canyon), crossed over Little Mountain Summit and descended into the North Fork of Big Kanyon (sic) Creek (now known as Parley's Canyon). He then proceeded past what is now Lambs Canyon and crossed over the summit into the very large high mountain meadow, a basin shaped area called a "park", which forms the head waters of East Canyon Creek. This high meadow basin soon became known as "Parley's Park." Upon his return to Salt Lake Valley, Pratt reported to Brigham Young that there was much timber and grazing lands in the vicinity. He also reported that 16 to 20 miles distant from Great Salt Lake City, there were suitable sites for the quarrying of sandstone as a building material. Parley Pratt also recommended to the church High Council that they appoint a formal exploration party to look into the possibility of building a road through the canyon; an action which was immediately taken.The early pioneers brought their cattle to graze the abundant grass. Between 1847-1850 Parley Parker Pratt, opened a toll road "the Golden Pass route" between Parley's Park City and the Salt Lake Valley, collecting tolls from westerly travelers en route over the mountains to the California gold fields. Two years later Pratt sold his toll road to finance another mission calling.

Around 1850, Samuel Comstock Snyder, Heber Chase Kimball, and Jedediah M. Grant secured a land grant from the territorial government (other accounts state "squatter's rights" from Parley P. Pratt) to settle this valley. The area was soon home to brothers Samuel Snyder and Chester Snyder and their families. The Snyder brothers were polygamists and soon 150 people were living in the community of Snyderville. Samuel Comstock Snyder and his first wife, (1) Henrietta Mariah Stockwell Snyder, and their 14 children: Permelia Snyder, George Franklin Snyder, Mary Ann Snyder, Ephriam Stockwell Snyder, Laura Altha Snyder, Henrietta Snyder, Amy Snyder, Robert Hyrum Snyder, Sarah Jane Snyder, Isaac Snyder, Betsy Ann Snyder, Charles Wellington Snyder, Annice Lovica Snyder, and Jaddiah Snyder, were the first settlers in the Silver Creek area, and gave their name to the community that grew up in this meadow, now known as the Snyderville Basin. Samuel Snyder's five wives were: Henrietta Mariah Stockwell, Caroline Little Luce, Susan Clarissa Harden Williams, Louisa Josephine Williams, Nancy Ann Perks. Chester Snyder's five wives were: Catherine Montgomery, Malinda Wilcox Wood, Electa Murdock, Harriet Knight, Sally Snyder. The geographical location of Park City and the collection of miners' tents had been known as Upper Parley's and Upper Kimball, after the prominent Mormon leaders, Parley Parker Pratt and Heber C. Kimball.
1852 – Around this time Wanship became Summit County's first county seat where the first courthouse was built. The State Legislative Assembly voted to divide the Utah Deseret Territory into twelve counties. In 1854 they created a new county, Summit County. Between 1854 and 1880 the size and shape of our county changed several times until Utah became a state in 1896.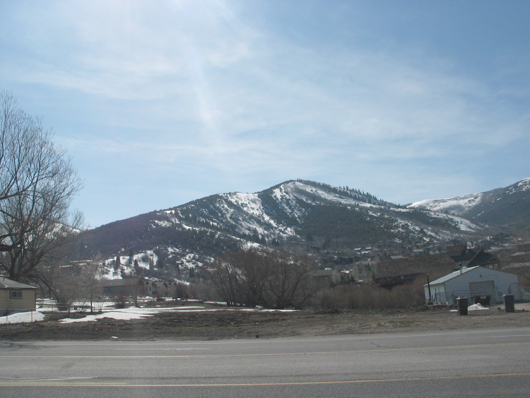 1853 – Samuel Snyder built the first sawmill in the area, a water-powered sawmill on the southwest side of Parley's Park west of Hwy 224, near the present site of the Snyder's Mill housing subdivision, between the James Archibald residence and the Wilford Walker Snyder residence. The L.D.S. Church owned most of the land from Park Meadows to beyond Kimball Junction in the Silver Creek Estates, Red Hawk, Glen Wild, Jeremy areas. Silver Springs proper was a large Church dairy.
Later Samuel built a gristmill . The closest approximation of its location is on the southeast intersection of Hwy 224 and Silver Springs Drive, our flags parcel. Snyder built a reservoir harnessing the flow of White Pine, Red Pine, and Willow Creeks. Snyder

found an eager clientele for his lumber in the growing community of Salt Lake City. With his sons and brothers, he also raised cattle. However, the opening of Snyder's sawmill coincided with an outbreak of hostilities between Mormon settlers and the Ute Chief Wakara. The migration of Mormon settler's beginning in 1847 had created a competition with the Shoshone and Ute tribes who hunted in the area. Among the first casualties were three customers of Samuel C. Snyder's sawmill.
1854 – Summit County was created from the existing Green River and Great Salt Lake counties. Summit County was named from the fact that it included 39 of Utah's highest peaks along the Wasatch Mountain range. In 1861 the county began to be organized, and soon became noted for its mineral resources, gold, silver, lead, copper, coal, iron, and mica.

1855 – "the state Legislature also granted certain grounds in most of the counties to individuals or companies for herding…"Be it enacted by the Governor and Legislative Assembly of the Territory of Utah: That the exclusive right of the use of the ground, commonly known as Parley's Park, and the adjoining valley lying southward, including Silver Creek, is hereby granted to Heber C. Kimball, Jedediah M. Grant, Samuel Snyder, and their associates for their grounds, for the period of twenty years. Approved January 19, 1855." –Heart Throbs of the West, Vol. 12, 1951, Page 298
1862 – William Henry Kimball built the Kimball Hotel at the Overland Stage Station (now on Bitner Road). This station, run by his fourth wife, Melissa Burton Coray Kimball, was visited by the likes of Mark Twain, Walt Whitman, and Horace Greeley. The area is still known as Kimball Junction.



1868 – George Gideon Snyder and "Aunt" Rhoda Shadwell Orchard Snydermoved from SLC to Silver Creek to be near his brother Samuel's homestead in Spring Creek. In late October a rich strike at the Emma Mine at Alta, soldiers of Johnson's army were climbing all over the mountains from Big Cottonwood Canyon. George equipped himself with outfits for hauling ore and moved Rhoda to Cottonwood. She was an excellent cook and started a boarding house there. In 1872 the prospecting soldiers found silver in Parley's Park. News reached George Snyder about the big silver deposit in Parley's Park City, he again packed up his family and moved them back to "the Park". George and Rhoda had seven children all born in the Park City area: Lillie Snyder (Evans), Sylvia Rhoda Snyder (McKendrick), Kimball Heber Snyder (Lovisa Hamilton), Sherman Mason Snyder (Gertrude Dollman), Pearl Snyder (infant), Ruby Lucille Snyder (William Bentley Brown), and Rose Lynette Snyder (Dee Ovit Workman). "Aunt" Rhoda Shadwell Orchard Snyder died February 13, 1925 in Park City, Summit, Utah. George Snyder's seven wives were: Sarah Wilder Hatch, Elsie Pamelia Jacob, Caroline Kilfoyle, Martha Kilfole, Rhoda Shadwell Orchard, Rebecca Snyder, Rachel Winter Tanner.
1869 – The Transcontinental railroad is completed at Promontory, Utah. Laid-off workers, including many Chinese, settle in Parley's Park.
1872 – George Snyder brought his fifth wife, Rhoda, and their three children from Wanship and settled in this mountain valley, known by different names, including Upper Kimball's and Upper Parley's, five miles to the south of Snyderville. George and his family built a two-room home near what is now the corner of Park and Heber Avenues, with lumber from the sawmill in Snyderville. Samuel Snyder, Chester Snyder, and George Snyder, with their wives and progeny of over 150 members, raised a flag and proclaimed that their new community would be officially known as Parley's Park City in honor of the martyred, Parley P. Pratt, early pioneer and leader.
1874 – First Grave at the Snyder Cemetery, located today in Sun Peak, was for Robert Wesley Snyder grandson of Samuel C. Snyder, son of Ephraim Stockwell Snyder, b. April 14, 1874; d. October 2, 1874
1889 – Gorgoza, the area at Parley's Summit, was originally named for Rodriquez Velasquez de la Gorgozada, a Spaniard who invested almost a million dollars for a narrow-gauge railroad. This railroad was proposed to be built as an extension from Parley's Park City to Salt Lake City. A representative for Brigham Young traveled to France to solicit the help of the Spaniard, who was promised that a city would be built and named in his honor. The project is yet to be fulfilled.
1896 – January 4 – Utah became the 45th State in the American Union.
1900 – Kimball Snyder, son of George Snyder (developer of the area) and his fifth wife, Rhoda Shadwell Orchard Snyder. Kimball had been born in Snyderville, just prior to the family moving to Park City in 1872. He worked as a teamster, not surprising because of his father's interest in the Dexter Livery, which was located on Heber Ave. Kimball and his wife Lovisia lived at 835 Woodside Avenue with their three children, clsoe to where he worked.

1920 – George M. & May G. Archer Mortuary at 586 Main Street in Park City. This 1941 photo shows the mortuary name on the awning: "G. M. ARCHER MORTUARY" William Muth sign on car window. It is recorded that Jacob F. and William D. "Dan" Richardson took over the Feeney's Park City mortuary business after the 1898 fire. Then in 1921 George M. Archer took over the mortuary from the Richardsons. George's daughter, Glenna Archer married Barry A. Thielke (1919-1994) on May 16, 1942, a 1937 graduate of Park City High School. Barry started his career with his father-in-law, George Archer, at Archer Mortuary in Park City. They later ran Archer and Thielke Mortuary in Salt Lake City. George Archer was born in 1893. He lived in Park City from c. 1921 to after 1946. During Utah's prohibition days George Archer kept locals supplied with liquor. Archer would drive his hearse to nearby Evanston, Wyoming, load-up with illegal whiskey, pull the shades and solemnly head back to his Park City funeral parlor. Local tavern owners would then replenish their supply by visiting Archer's garage in the dark of night. [Matilda Potts dies April 1946.]
~ ~ ~ ~
1962 – 1981 – Records indicate that the area of Silver Springs was comprised of agricultural fields. The ground was vacant or fallow from 1975-1981 at which time
1978 – The Church of Jesus Christ of Latter-day Saints owned the area of Parley's Park, from Park Meadows to Kimball Junction for around 150 years. The Silver Springs area was a dairy farm for most of that time. (See Arville & Arlene Pace, Ralph & Karen Miles, Doc Osguthorpe) The Snyder's had a gristmill and a sawmill in our proximity. A corporation consisting of three entities, M.I.D., S.S.D. Inc, and became the owners and developers of the new Silver Springs Development Subdivision.
1978 – Vern C. Hardman Jr. was working on the development of the Silver Creek Commercial Center off Highway 40 and I-80 when he met Paul Anderson from the investor group, M.I. D.of Minneapolis, Minnesota. Anderson needed a local partner and asked Hardman to join him and Jack J. Johnson on a master plan for Silver Springs East and West. Vern Hardman and his sons, Michael Hardman (103) and Scott Hardman (36), along with son-in-law Richard "Dick" Pearce (36), began the work of installing infrastructure, and roads. Dredging for the lakes began around 1983. The original Silver Springs plat and CC&R's were drafted by the J. J. Johnson Engineering Company.
1978 – The first rodeo in the Parley's Park area was held in Silver Springs in the future Phase A-Com and !-D where Walker Court and South Shore are now. They had greased pigs and buck riding and a great time.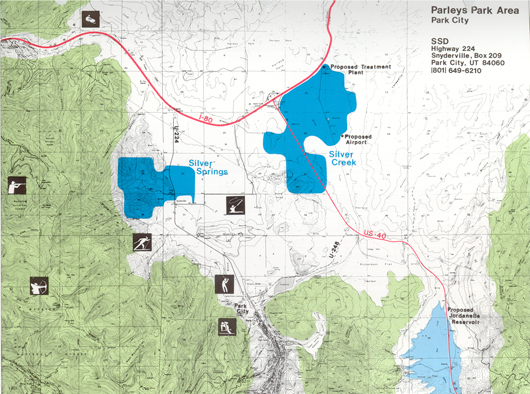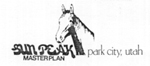 Silver Springs Developers, Inc. 1979 map of Silver Springs West and Silver Springs East. Note that the West Silver Springs proposed development was more than twice the size of the East (of Hwy 224) proposed development. West Silver Springs was later renamed "Sun Peak" an equestrian subdivision.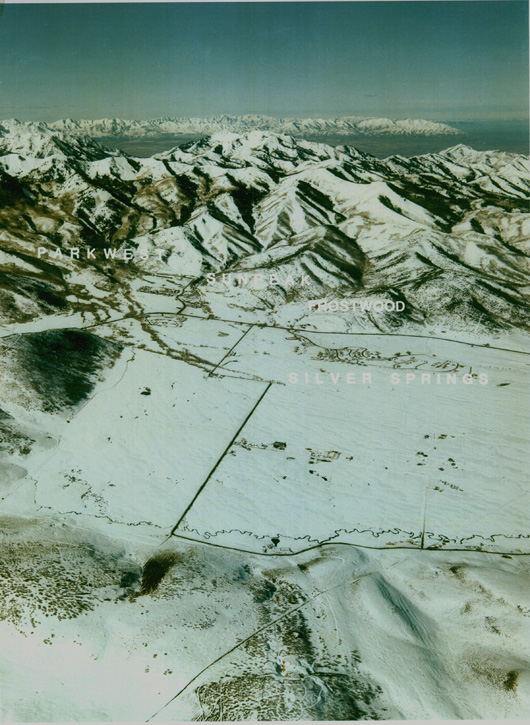 1979 – July 16 – Original Plat 1A representing Lots 1-64, and the Declaration of the Covenants, Conditions, and Restrictions for Silver Springs East were submitted for recordation by the M.I.D. Co.
One of the first investors was Raymond D. Fry, developer of the Park West condos on the east side of Highway 224. Fry built the Blue Roof Market on the corner of Silver Springs Drive and Highway 224. Another early investor was attorney Don Stringham, who bought the commercial property around the Blue Roof Market. Stringham was an early partner in the Silver Springs Water Company, since sold to Mountain Regional Water.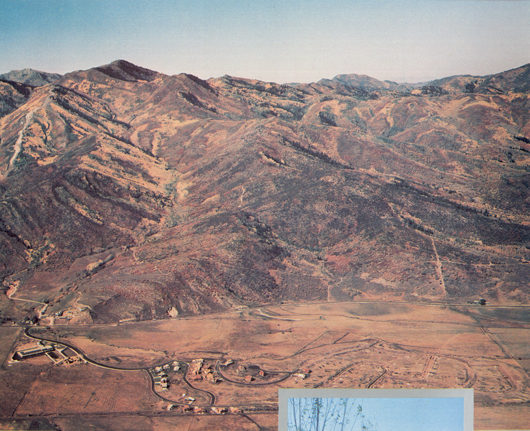 1979 – First Homes built in Silver Springs East = Lot 1 Fouse; Lot 2 Till or Fishback; Lot 3 McDonald; Lot 4 Paskoski?;
1980 – January 11 – Paul R. Anderson – Memo to File – "The purpose of this memo is to outline the percentage interest and the business objective of Silver Springs Investors, Silver Creek Investors, Silver Springs Water, Silver Springs Development (East), Crown Partners and Commercial Partners."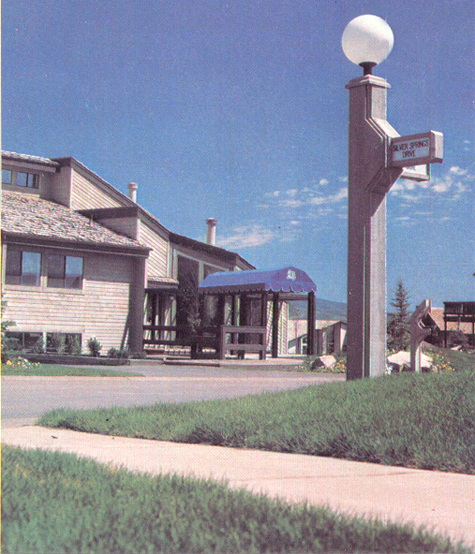 S.S.D. Inc. Model Home on Lot 1 – in 1979
Also note our original street sign and lamp posts, and original style mailbox.
Staker-Parsons laid down the first asphalt
1980 – Houses buiit – Lot 7 Williamson?; Lot 8 Levine; Lot 12 Sadowski; Lot 14 Morgan; Lot 15 Motschman?; Lot 16 Latterner; Lot 17 Mitchell; Lot 18 Kuster?; Lot 19 Alban; Lot 20 Connors?; Lot 21 Bird?; Lot 32 Harbertson?; Lot 33 Barnett; Lot 34 Reynolds?; Lot 35 Legris; Lot 37 Harris; Lot 39 Heinz; Lot 40 Foster?; Lot 43 Klein; Lot 45 Schneider; Lot 50 Early?; Lot 51 Hansen; Lot 60 Booher; Lot 62 Carter?; Lot 63 Wagner?; Lot 64 Keeler; Lot 143 Miano
1980 – July 7 – Original Trust Deed recorded for Parcels A through T with S.S.D., Inc. as Trustors, and American Savings & Loan Association, as Trustee and Beneficiary.
1980 – July 29 – Silver Springs Plat 1B representing Lots 65-171, recorded on behalf of William M. Wirthlin of Milwaukee, Minnesota; and owners Paul R. Anderson, Vern C. Hardman Jr., and LeRoy P. Taylor.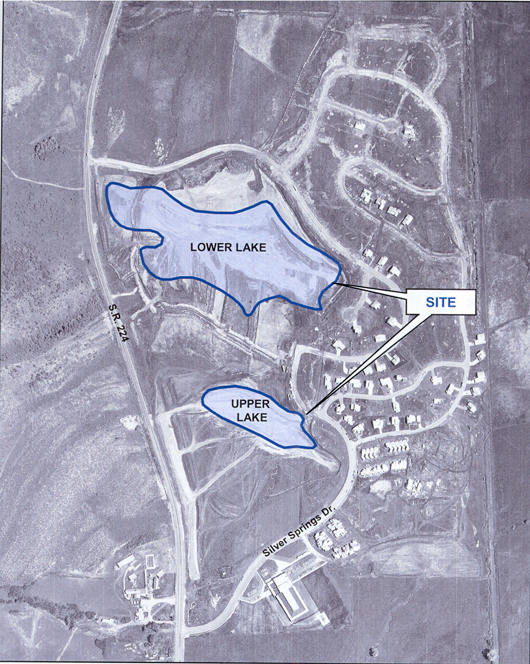 1981 Silver Springs Aerial of Lakes being dredged and first homes built.- Olympus Aerial Surveys
Upper Lake (is 6510′ above sea level aka Silver Willow Pond is smaller and to south) and Lower Lake (6480′ above sea level aka Silver Willow Lake is larger and north) Upper and Lower efers to elevation of the parcels.
1981– Homes built this year = Lot 22 Williams?; Lot 23 Jones?; Lot 29 Cody?; Lot 30 Cassidy?; Lot 115 Hornsby; Lot 116 Hansen/Adams; Lot 141 Livingston?; Lot 142 Smith?; Lot 145 Maben; Lot 147 Lam; Lot 148 Stephens.
1981 – January 9 – A supplementary Declaration was submitted by Vern Hardman Jr., President of S.S.D., Inc. The document annexed Phase 1B representing Lots 65 through 171 to become subject to the original Declaration of Covenants, Conditions, and Restrictions for Silver Springs Development.
1981 – August 25 – Summit County Planning Commission Meeting Minutes. "West Side [of Hwy 224] Master Plan Revision – Silver Springs"
1981 – September 8, – Summit County Planning Commission Meeting Minutes. "Jim Webster – Silver Springs East recreational facility – tennis court & swimming pool, …as well as 1-D (South Shore) exact location of the lake and buffer strip. The cul-de-sac [Park Place] may still be eliminated."
1981 – October 6 – Vern C. Hardman and R. Kay Poulsen received approval for Plat 1C Lots 172-173.
1981 – November 10 – Summit County Planning Commission Meeting Minutes. Silver Springs East Development Project Master Plan Amendment – Request for approval of sidewalk/pedestrian plan and increased density and 26 acre open space for public park. " The park could contain various recreational facilities along with the use of the lake where water activities (other than swimming) could take place. The long narrow strip (six miles) along the highway could be utilized as a bicycle and jogging area. The pathway connects the elementary school with the more active area of the park."…"Stan Strebel stated there is the potential conflict between the public and the homeowners along the lakefront (lake view lots)…The water company woud have to regulate the land use and restrictions."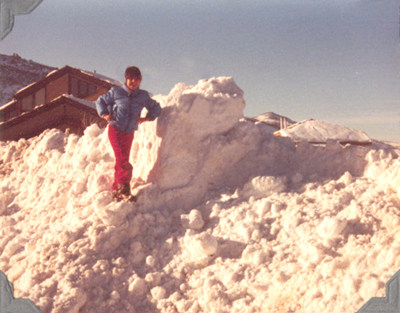 Silver Springs Winter of 1982-1983 – Roads became tunnels
1982 – May 11 – Summit County Planning Commission Minutes – "Recreation Facility at Silver Springs" and Plat 1-F [Park Place] plans.
1982 – June 1 – James V. Crestani, Robert L. Ford, and Raymond D. Fry recorded Silver Springs Plat 1E representing Lots 193-202.
1982 – June 25 – An Agreement between Raymond D. Fry and Commission Chair Bill Wallin of Summit County is signed and recorded on July 6, 1982 Book M225 Page 191-193, Entry No. 193367. This Agreement released the developers bond designated for the completion of the underdrain system in Phases 1A and 1B and future phases, in the amount of $150,000.00. Summit County retained $5,000. balance of the bond. Ray Fry felt he was authorized to enter this Agreement as he signed as both the President of the Silver Springs Homeowners Association and the Developer President of RDF Associates, Inc.
June 26 – Amendments to the By-Laws were recorded. Changes to Article I, III, IV. Term of Office. "All Trustees elected to office will serve for a term of two (2) years. Annual Elections to alternately install four Trustees one year and three Trustees the next year, etc." Also recorded and Amendment to the Amended Covenants, Conditions, and Restrictions Article VII Architectural Committee Rules. Book 525, Page 676 by James R. "Dick" Mitchell and Rick Hovey.
1982 – July 20 – James V. Crestani, Robert L. Ford receive approval for Silver Springs Commercial Phase "A" now known as the "Blue Roof Market Parcel"
1982 – August 10 – James V. Crestani, Robert L. Ford, and Ray Fry (now part of the Silver Springs Development Partnership), recorded Silver Springs Plat 1D representing Lots 174-185. This plat begins on the southwest side of Silver Willow Lake with Lot 185 and wraps around to the west and south between Silver Springs Road and Highway 224, these lots face east toward the Silver Willow (Duck) Pond area and are now part of Southshore. Lot 185 is part of the Park Place development.
Sometime during this era a West Silver Springs development was recorded on the west side of Highway 224. The area was subdivided into 10 to 25 acre horse properties with a large common polo and competition field and barn.
1984— Silver Springs East assists in the creation of a new homeowners' association for the single family units.
1985 – June 5, Ray Fry's market/gas station on Hwy. 224 and Silver Springs Drive became The Duck Stop. Archie (lived in Quail Meadows Condos) sold candy and treats to neighborhood children. The ducks would swim around the little lagoon and stream and the children would feed them popcorn and bread.
1985 – October The Silver Springs Homeowners Association was finally organized with homeowner trustees according to the recorded CC&R's.
1986 – January 16, The Silver Springs Homeowners Association recorded their Bylaws and Articles of Incorporation and revised the wording within the amended Declaration of CC&R's of April 15, 1982 as a result of a meeting and approval by a majority of the association members. The Board of Trustees were Dale Boshetto (71), Ron Kobler (61), Bill Ligety (193), Lucy Murphy (38), Fred Wasilewski ((9), Greg Vinson ((22), and Dr. Elmer "Buzz" Sandberg (16).
1986 – November 10 – Trustee's Salefor purpose of foreclosing a Deed of Trust executed by S.S.D., Inc., as Trustors, in favor of American Savings & Loan Association, as Trustee and Beneficiary, covering real property located at Silver Springs Development, Snyderville, Summit County, Utah, as shown Original Trust Deed Exhibit A, recorded Parcels A through T.
1987 – October 19, Amendments to the Bylaws of the Silver Springs Homeowners Association were recorded by the Board: Dale Boschetto, Robert V. Haedt, Rick Hovey, Dick Mitchell, Lucy Murphy, Bonnie Adams, Buz Sandberg.
1988 – June – Silver Springs Water Company Newsletter written by Lynn Stephens, Manager.
1988 – August 8 – Letter from American Savings Attorney regarding Silver Springs Parcels.
1988 – August 23 – Minutes of the Planning Commission for Meeting held August 23, 1988.

1988 – September 13 – Minutes of the Planning Commission for Meeting held September 13, 1988.
1988 – November 9 – Amendments to the Bylaws of the Silver Springs Homeowners Association for Article 5. Quorum and Article 6. Voting were recorded by the Board: Dale Boschetto, Robert Haedt, Rick Hovey, Dick Mitchell, Lucy Murphy, Bonnie Adams, Elmer J. Sandberg.
1989 – May 10 – Amendments to the Architectural Committee Rules were recorded by Architectural Rules Committe: Rick Hovey and James R. "Dick" Mitchell, Chairman.
1989 – October 3 – Silver Springs Master Association is established and organized through the Developer-Homeowner Agreement for Silver Springs Subdivision (Communities).
1990-1991 – Bill Ligety led the group of 30 or 34 Lower Pond (big Silver Willow Lake) property owners contiguous to the lake property, they hired an attorney and they removed the Silver Springs waterways perimeter common area access to the SS lake. Silver Springs Homeowners lost their right to walk around the perimeter of the lakes. Silver Springs Water Co. manager Lynn Stevens gave in to pressure from this group to sign over the common rights. The vote of the General Membership was not solicited, nor gained.
1994 – May 23 – An amendment to the amended declaration dated February 8th,1993 was recorded.as Entry #405079 in Book 807, Pages 765-766. This declaration was submitted by the Board of Trustees of the Silver Springs Single Family Homeowners Association, Fred Stayrook (25), Karen Schoepoerster (99), Ellen Reich (156), Rick Klein (43), Marion Boland (24), Robert Carson (100), and Harley Paulson (138). This document revises the wording within the amended declaration of April 15, 1987 as a result of a meeting and approval by a majority of the Association members.
An aerial photograph was taken of Silver Springs Subdivision.
1994 – November 17 – An amendment to the amended declaration was recorded as Entry #419440 in Book M851, Pages 334-339. This declaration was submitted by the Board of Trustees of the Silver Springs Single Family Homeowners Association. Fred Stayrook (25 ) Polly Reynolds (72 later 171), Ron Yokubison (57), Richard Callahan (84), Rick Klein (43), Marion Boland (24), and Harley Paulson (138). This document revised the wording within the amended declaration of April 15, 1982 as a result of a meeting and approval by a majority of the Association members.
1996 – November 27 – Richard Staples purchased the Blue Roof Market (called The Duck Stop ten years ago, before Texaco and Sinclair owned and ran it).
1996 – A well is being drilled on the west end of Hwy. 224 for a future development. SS Water assured it will not affect the artesian well near the pump house. Bob Larsen is a 90% owner of SS Water Co. Brian Getz is the manager, Dave __ maintains the pumps, reservoir, system.
1997 – January 13 – SSSFHOA by unanimous vote approved the annexation of Little Lake of Silver Springs Subdivision Plat D Lots 1-6. [Should this have been an action taken by the SSMA?] See letter from Wayne Courtney to Marty Breen and Summit County Recorder Entry 473068 Book 1026 Pages 743-750.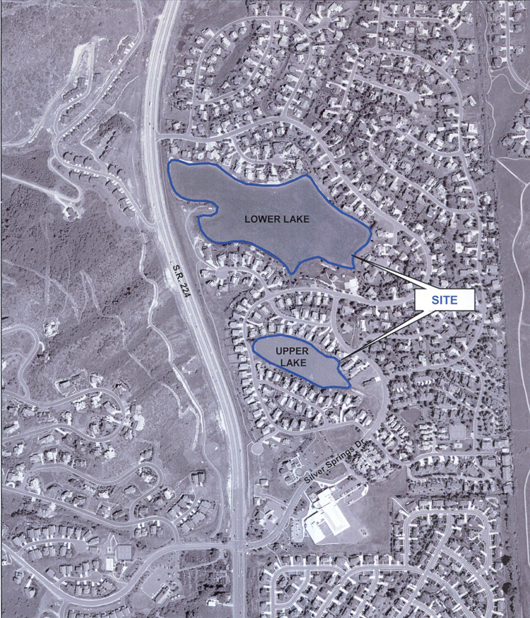 2003 Silver Springs Aerial of lakes and community – Olympus Aerial Surveys
1999 – Brian S. Moroney is manager of Robert Larsen's Silver Springs Water Company.
2000 – November – Clay and Lucy Archer were recruited by Brodie Pollard, Matt Lindon, Ron Krieger, and the Master Association Board to develop a website for Silver Springs and the member subdivisions.
2001 – March 19 – Clay and Lucy Archer presented the first pages of the new Silver Springs website to the board. The board members have agreed to regularly give to the Archer's the rosters, minutes, etc., that they will need to continue to build and update the website. The Archer's have paid for the domain name (silverspringshoa.org) for the next several years and are hosting it for free for the HOA.
2002 – The Archer's turned over the passwords and webmaster duties for the Silver Springs website to the board. They do not want to be connected with a website that receives no input from its members or board. The Archer's have not received any meeting announcements, rosters, minutes, or any other HOA information from the manager, Robyn Bailey, nor from any other member of the board (who defer to Robyn on every request).
2004 – June 23 – Lakes Conveyance and Water Supply Agreement between Silver Springs Master Homeowner's Association and Mountain Regional Special Service District.
2005 – Amendment to the 1989 Developer-Homeowner Agreement for Silver Springs Subdivision (Communities). Archers allow domain at silverspringshoa.org to lapse due to lack of interest by HOA.
2006 – March 6 – The SSSF board being frustrated with trying to get the Master Association or Anthony Sands or anyone else to develop the www.silverspringshoa.org website took it upon themselves to try to develop this website using the SSSFHOA resources. Skip Domenick delegated the work to Steve Kotsenburg and Dave Coehlo. Cynthia Spangler of P.C. Design was hired to commence the design work. "The design work for the site, including coding for the first page will be $1300-1400. Charges for each additional page will be $75. Once-monthly maintenance for the pages will be $300/year. Twice-monthly maintenance for the pages would be $500/year."
2008 – March 3 – Skip Domenick and Dave Coehlo turned over the eleven page website to Lucy Archer. Unanimous board approval for Lucy to take over, build, and keep current the www.silverspringshoa.org website as webmaster. Lucy accepted the long-term position. There is an agreement that the board will provide to her the documents and updates necessary to keep the site current.

2008 – April – The remains of the early Mormon leader and Park City name-sake will be moved from Van Buren, Arkansas to S.L.C., Utah later this month. Parley Parker Pratt was murdered 151 years ago in Arkansas. Pratt was chosen by Joseph Smith as one of the first Mormon apostles c. 1831. In 1847 Pratt traveled through our area and then returned to lay his stake. Our local elementary school, Parley's Park Elementary School, Parley's Canyon, Parley's Summit, and Park City (originally Parley's Park City) were named for him. Also note the original recorded parcels in this area begin with the initials "PP" for Parley's Park. While on a mission for the church to the southern states, Pratt was accused by Hector McLean in a lawsuit for causing the estrangement in McLean's marriage to Eleanor McLean, who became Pratt's 12th wife. Although Pratt was exonerated by the court (McLean had been in the gold fields of California for a protracted period of time), McLean and two accomplices pursued Pratt to Alma, Arkansas, where they fired at and stabbed him. Pratt died May 13, 1857. One of Pratt's dying wishes was for his body to be returned to Utah. [Later in 2008 Arkansas denied the family wishes to move Pratt's remains to Utah.]
2008 – September – Philips Edison Group requested Summit County Planning Commission to re-zone the Blue Roof property from RR to CC. They planned to tear down the Blue Roof to build a Walgreen's 14-15,000 sf Pharmacy. Silver Springs residents will keep an eye on the rezone application.
2008 – October 13 – Silver Springs Single Family Annual General Association Meeting and Election was ambushed by two rogue members, placing aspersions on the process and on the elected trustees. Though 81% of the Association Members participated and voted at this election the rogues scheduled an illegitimate replacement meeting on December 15th, ensuring their election to the board of trustees. Legal costs incurred by the rogue members and paid from the HOA Budget were more than $8,000, and other election costs nearly $500. A travesty for neighborhood cohesion, cooperation, trust, and harmony. Association Members left the meeting in shock and angry.
---
---


Summit County Historian
NaVee Vernon
[email protected]
435-336-3015
435-615-3015
60 N. Main Street
P.O. Box 128
Coalville, Utah 84017
Visit the Museum at 60 North Main in Coalville Utah, in the basement of the County Courthouse.
Open Daily
8:00 AM to 5:00 PM
Monday thru Friday
Also available by prior arrangement by calling 435.336.3200 or 435.336.3015
Research Records:

Obituary Records index and microfilm for the Park Record newspaper
(1880 to 2000) are available at the Park City Library
Naturalization Records are avaliable at the District Court office at the
Summit County Courthouse (from 1896-1942)
Marriage Licenses: 1905-Present (Username: public Password: public)
1887 – 1934 (Can search on othe States and Counties)
Probate records: available at the District Court office at the
Summit County Courthouse (from 1899)
Criminal/Civil Court Cases are available from 1866-present at the
District Court office at the Summit County Courthouse
Property Tax Records: 1999-Present (Username: public Password: public)
1895-Present on microfilm at the Treasurer's office.
Commission Records: 1861-Present (Username: public Password: public)
Includes Minutes and Ordinances

Cemetery Records:

Most Utah Cemetaries are available.

Marion Cemetery

1889-1922 Park Record Archive

Utah State Vital Records Office

Utah State Archives

Utah State Historical Society

Utah History Encyclopedia