6- Quail Meadow Condos
---
QUAIL MEADOW CONDOMINIUMS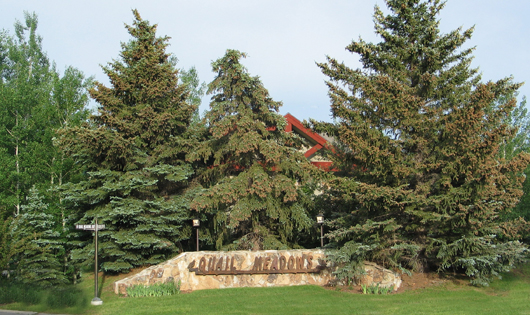 Photo taken in 2008
President  – Tom Minahan 615-2292
Trustee: Christian Gennerman
Trustee:  Matt Jacobsen 649-0469
Trustee: Susanne Burkett
Trustee: Dolly Makeoff
Trustee (resides in Ranch Place): Tony Mason – 649-6006
Subdivision first phases were recorded in 1982.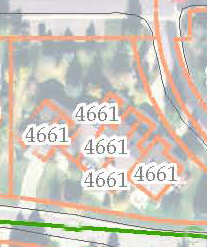 Five units situated on corner of Meadow Loop Road and Meadows Drive (Ptarmigan)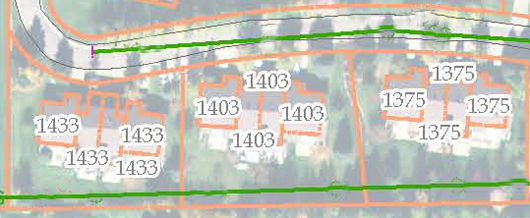 Quail Meadow Townhouse Condominiums were built around 1982. Seventeen units.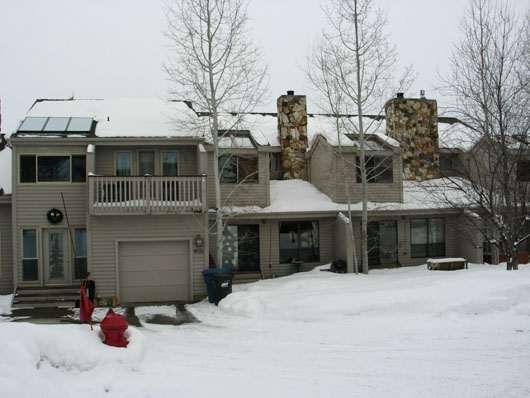 Winter 2009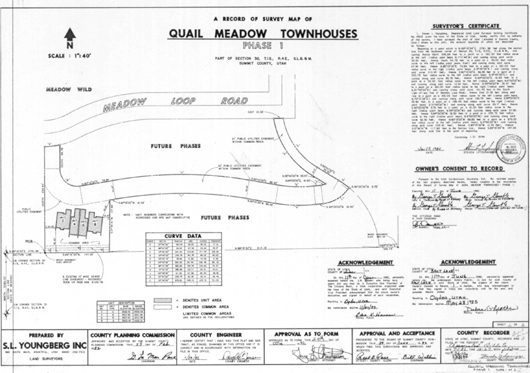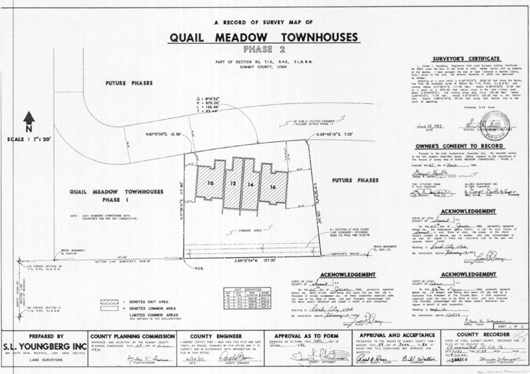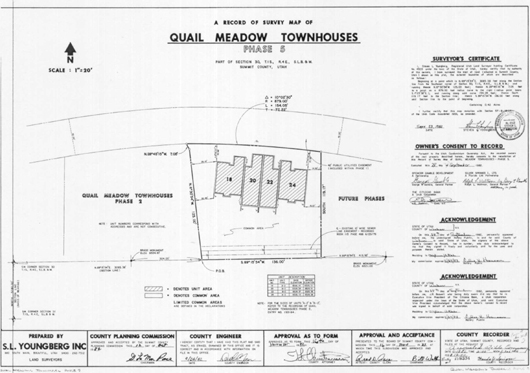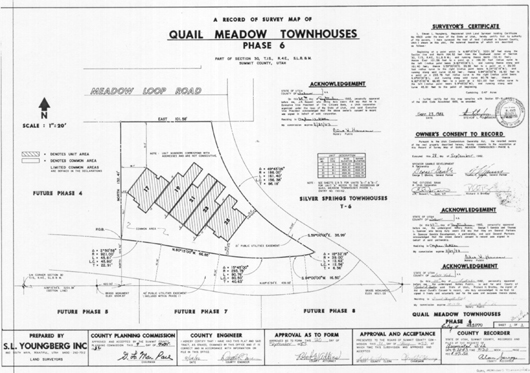 ---
QUAIL MEADOWS CONDOMINIUM SUBDIVISION DOCUMENTS
Quail Meadow Documents: (These documents are found on microfiche at the Summit County Recorder's Office. If you would like a hard copy make an e-mail to [email protected] There will be a $10 copy fee for the 75 pages.)
Section 3. Meetings of the Association….there shall be an annual meeting of the Association on the last Saturday of each January at a reasonable place…at 7 PM…bio of each member intending to stand for election….Section 2.3 Voting for the Management Committee …elected solely by the votes of Owners.
Section 2.4 Members of the Management Committee shall serve for terms of two (2) years beginning immediately upon their election.
Section 4. All officers and employees of the Association shall serve at the will of the Management Committee….Officers shall be annually elected by the Management Committee.
Article III, Section 3.2. Management Committee shall be elected as provided in the Amended Declaration.
Section 3.4. The regular meeting of the Management Committee shall be held immediately following the annual meeting of the Unit Owners at the same place as the annual meeting.
Article IV. Officers. Section 4.1. The principal officers of the Association shall be president, a vice president, and a secretary/treasurer, all of whom shall be appointed by the Management Committee….Such appointment of officers shall take place at the annual meeting of Unit Owners, provided however, that appointments of officers may also take place at any other meeting of the Management Committee.
---
1990? through 2011:
Board consisted of:
President (residing in Hidden Cove) – Richard Anthony Sands645-0745, cell (435) 640-1858
Tom Minahan 615-2292
Matt Jacobsen 649-0469
Tony Mason – 649-6006 (residing in Ranch Place)
1989-1990 QUAIL MEADOW UNIT OWNERS ASSOCIATION:
Registered Agent: James W. Kennicott, 1607 Shortline Road, P.O.B. 2339, P.C., UT 84060
President: Sandra Sheelock, 1375 W. Quail Meadows Rd, P.C., UT 84060, (435)649-3411
QM-Condos – Former President – Jeff Kelley QM-6-17 (sometime between 2001-2006)
---
QUAIL MEADOW CONDOMINIUMS(17)
REF TAX ID # PROPERTY ADDRESS OWNER NAME
QM-1-2 as 1433 W. Quail Meadow Road Unit 2Suzy Kay Burton
QM-I-4 as 1433 W. Quail Meadow Road Unit 4Traci Rae Evans
QM-I-6 as 1433 W. Quail Meadow Road Unit 6 Matt C. Jacobsen
QM-I-8 as 1433 W. Quail Meadow Road Unit 8 Tony & Gina Mason
QM-II-10 as 1403 W. Quail Meadows Road Unit 10Betty Allred  (rented to Stan Kanarowski's parents Alan and Deedee Sihvanan)
QM-II-12 as 1403 W. Quail Meadows Road Unit 12 Richard Anthony & Margarita Sands (Judy & Paul Sands)(rented to Walker)
QM-II-14 as 1403 W. Quail Meadows Road Unit 14Lazy S, PC Rental; C. Humphries
QM-II-16 as 1403 W. Quail Meadows Road Unit 16Julie Minahan; Elizabeth S. McLaughlin
QM-V-18 as 1375 W. Quail Meadows Road Unit 18Old Town Lodging Invest; John C.& Rhona A. Jensen
QM-V-20 as 1375 W. Quail Meadows Road Unit 20Jeffrey Amegod; Nikolai Mentchoukov
QM-V-22 as 1375 W. Quail Meadows Road Unit 22Lucy B. Minahan & Tom Minahan
QM-V-24 as 1375 W. Quail Meadows Road Unit 24Jay & Patricia Lauer ; Donna & Kelly Andersen
QM-6-17 as 4661 N.Quail Meadows Road Unit 17 Christian Gennerman ; Beth Falk
QM-6-19 as 4661 N. Quail Meadows Road Unit 19 Jack H. Fotheringham; Marina Ramos
QM-6 21 as 4661 N. Quail Meadows Road Unit 21 Jack McPhie G.Partner ; Richard R. Nielson
QM-6-23 as 4661 N. Quail Meadows Road Unit 23 Jordan Rexeen Nielsen
QM-6-25 as 4661 N. Quail Meadows Road Unit 25 John W. Hall & Donna M. Hall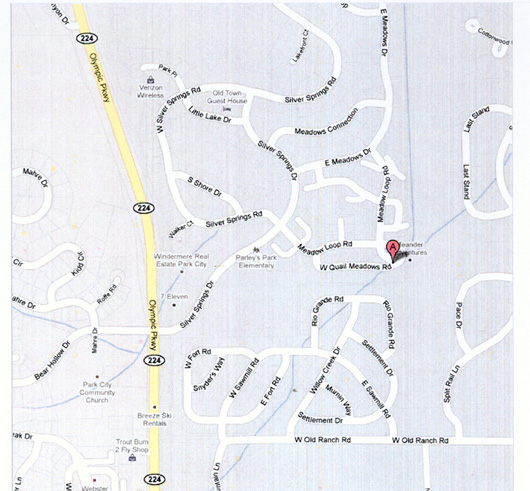 ---
NOT A PART OF THE SILVER SPRINGS MHOA
These four houses are named "Meadow Wild Phase 3" but the residents have chosen to not be a part of Meadow Wild Condo HOA nor part of Quail Meadows HOA nor the MHOA:
MDW-3-301 as 1347 W. Quail Meadow Road – Laurie Man-Aufrichtig (Lot 274?)
MDW-3-302 as 1337 W. Quail Meadow Road – Whitney Pearson
MDW-3-303 as 1327 W. Quail Meadow Road – Adrian Carle Gray
MDW-3-304 as 1319 W. Quail Meadow Road – James & Jennifer Brown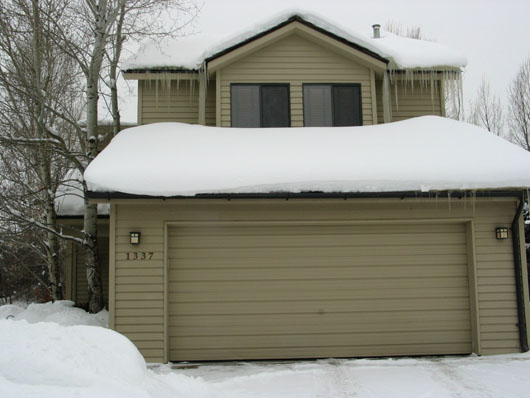 ---