—Storm Drains
---

STORM DRAINS IN SILVER SPRINGS
SINGLE FAMILY NEIGHBORHOOD
---
UDDATE: June 22, 2020 METEOROLOGISTS TODAY ARE DISCUSSING THE TWENTY YEARS OF DROUGHT UTAH, THE SECOND DRIEST STATE, HAS BEEN EXPERIENCING.  IN THE FUTURE RATIONED WATER MAY BECOME THE NORM, OR WE MAY BE LUCKY TO HAVE ANY WATER AT ALL.   CLIMATE CHANGE IS MAKING SUMMERS HOTTER AND DRIER.  DEVELOPMENT PLANS DURING THE NEXT 7 YEARS COULD BRING THE SNYDERVILLE BASIN POPULATION TO 1.8 MILLION.
WHEN SILVER SPRINGS WAS STARTED OUR WATER CAME FROM A SPRING WEST OF THE COMMUNITY CHURCH ON COOPER LANE.  NOW COMPETING CANYONS RESORT, WALDORF ASTORIA, JUPITER LANDING, AND OTHER SUBDIVISIONS AND GOLF COURSE HAVE BEEN ASSIGNED TO TAKE OVER OUR LOCAL WATER SOURCE.   BEGINNING AROUND A DECADE AGO OUR WATER SOURCE WAS RE-ROUTED BEGINNING AT ROCKPORT RESERVOIR, TWENTY MILES OF PIPE OVER AND THROUGH PROMONTORY AND CONTINUED WEST TO SILVER SPRINGS.
TODAY  SILVER SPRINGS IS FORTUNATE TO HAVE FOUR KINDS OF WATER:  1) ARTESIAN, 2) UNDERGROUND, 3) SURFACE RUN-OFF/ SNOW MELT.  AND 4) SUBTERRANEAN AQUIFER.
THE 1ST TYPE IS VERTICAL WATER.  VERY FEW PROPERTIES HAVE ARTESIAN ACTIVITY ON THEIR PROPERTIES.  SUMP PUMPS ARE SUCCESSFUL IN SOME CASES.  Chemically and physically, artesian groundwater is not different than other groundwater, but it comes to the surface differently. Groundwater in aquifers between layers of poorly permeable rock, such as clay or shale, may be confined under pressure.  If such a confined aquifer is tapped by a well or a breach, water will rise above the top of the aquifer and may even flow from the well onto the land surface. Water confined in this way is said to be under artesian pressure.   The water in this aquifer is squeezed by the other rocks, creating pressure in the water-bearing aquifer.  When an artesian aquifer is tapped or breached by cracks, the pressure pushes the water up the well or fissure, sometimes all the way to the surface, creating a flowing well. Imagine it as a very wet sponge contained in a closed plastic bag. Put a straw through the bag into the sponge, hold the bag tightly around the straw, and SQUEEZE – that would be artesian water squirting you in the face.
The SS Community large lake has around half a dozen such wells beneath its 20.84 acres.  The 500′ well on the lake peninsula is an artesian source that has gone dry.  There may be one or two home lots the center of SSSF who also have this type of artesian flow.  IT IS UNLIKELY THAT THE UNDERDRAINS CAN MITIGATE ARTESIAN FLOW.
At the Board Meeting on January 8, 2018 the resident of Lot 67,  purchased in 1989, reported his 3 sump pumps under his house continue to allow water seepage on this property.  No foundation French drains have been installed here.  The HOA paid for the installation of manhole 8A since an auger drill working to unclog manhole 9A across the street had become stuck in the bedrock.  Lot 67 Owner told us he had not experienced any more seepage problems on his property since the additional manhole was installed c.2017.
A VERY FEW PROPERTIES HAVE THE 2ND TYPE OF WATER CLOSE TO THE SURFACE OF THEIR LOTS.  GROUND WATER IS A PRECIOUS NATURAL RESOURCE THAT MAY BE TOO ABUNDANT SEASONALLY FOR HOMEOWNERS WHO HAVE NOT PREPARED THEIR PRIVATE PROPERTY OR WHO BOUGHT THEIR PROPERTY WITHOUT CAREFULLY INSPECTING ITS FEATURES, CHARACTERISTICS OR EXISTING CONDITIONS THEY ACCEPTED WHEN THEY PURCHASED THEIR PROPERTY.  THESE LOTS INCLUDE MANHOLES 6A,  9A.
BECAUSE OF THE WATER TABLE'S VALUE, AND BECAUSE THE UNDERDRAINS CANNOT BE CONTROLLED, CLOSED DURING HOT, DRY WEATHER OR OPENED DURING WET WEATHER, AND BECAUSE  THE UPPER ELEVATION LOTS ARE LOSING TOO MUCH WATER TO THE DETRIMENT OF THE LOWER ELEVATION LOTS RECEIVING THEIR FLOW,  THE 94 LOTS CONTAINING THE UNDERDRAINS ARE LOSING MORE THAN THEY ARE BENEFITING FROM THE USE OF UNDERDRAINS.  THEREFORE, THE SILVER SPRINGS NEIGHBORS VOTED IN 1985, 1994, 2008 AND AGAIN IN 2014, TO ABANDON THE  1979 TEMPORARY UNDERDRAIN SYSTEM BURIED 5′ TO 10′ BELOW THE GROUND SURFACE, A DEPTH THAT MAKES THEM INEFFECTIVE FOR CONTROLLING SURFACE RUN-OFF OR SNOW-MELT .
The water stored in the ground can be compared to money kept in a bank account.
Groundwater is a valuable, natural resource. Where surface water, such as lakes and rivers, are scarce or inaccessible, groundwater supplies many of the hydrologic needs of people everywhere.  Pumping water out of the ground faster than it is replenished over the long-term causes serious problems. The volume of groundwater in storage is decreasing, depleted in response to collecting and discharging water out of our neighborhood.  Groundwater depletion, is a term defined as long-term water-level decline caused by sustained groundwater draining.
Excessive draining and discharging of  groundwater can overdraw this natural resource "bank account".
The underdrains are creating many more problems for all the Homeowners, more than the help they are purporting to do for a few.
Some of the  serious and negative consequences of groundwater depletion include:
drying up of wells  (Snyderville Basin is an example of drying wells)
reduction of water in streams and lakes (negatively affecting fish and wildlife)
deterioration of water quality, increased costs to purify
increased pumping costs  (locating, drilling, infrastructure development.
land subsidence (slippage and movement of land under homes and roads, etc.)
seeping water away from our mature trees and landscaping

THE 3RD TYPE OF WATER IN SILVER SPRINGS SINGLE FAMILY SUBDIVISION IS SNOW MELT AND SURFACE RUN-OFF WATER.  TO CONTROL THESE THE MASTER PLAN INCLUDES DRAINAGE CHANNELS, STORM DRAINS, SEWER SYSTEM, RETENTION PONDS, CURBS AND GUTTERS.   HOMEOWNERS WHO HAVE THIS SEASONAL WATER ARE ALSO ABLE TO CONTROL IT BY THE INSTALLATION AND USE OF SUMP PUMPS, DIVERTERS, LANDSCAPING  AND FOUNDATION PERIMETER DRAINS.
---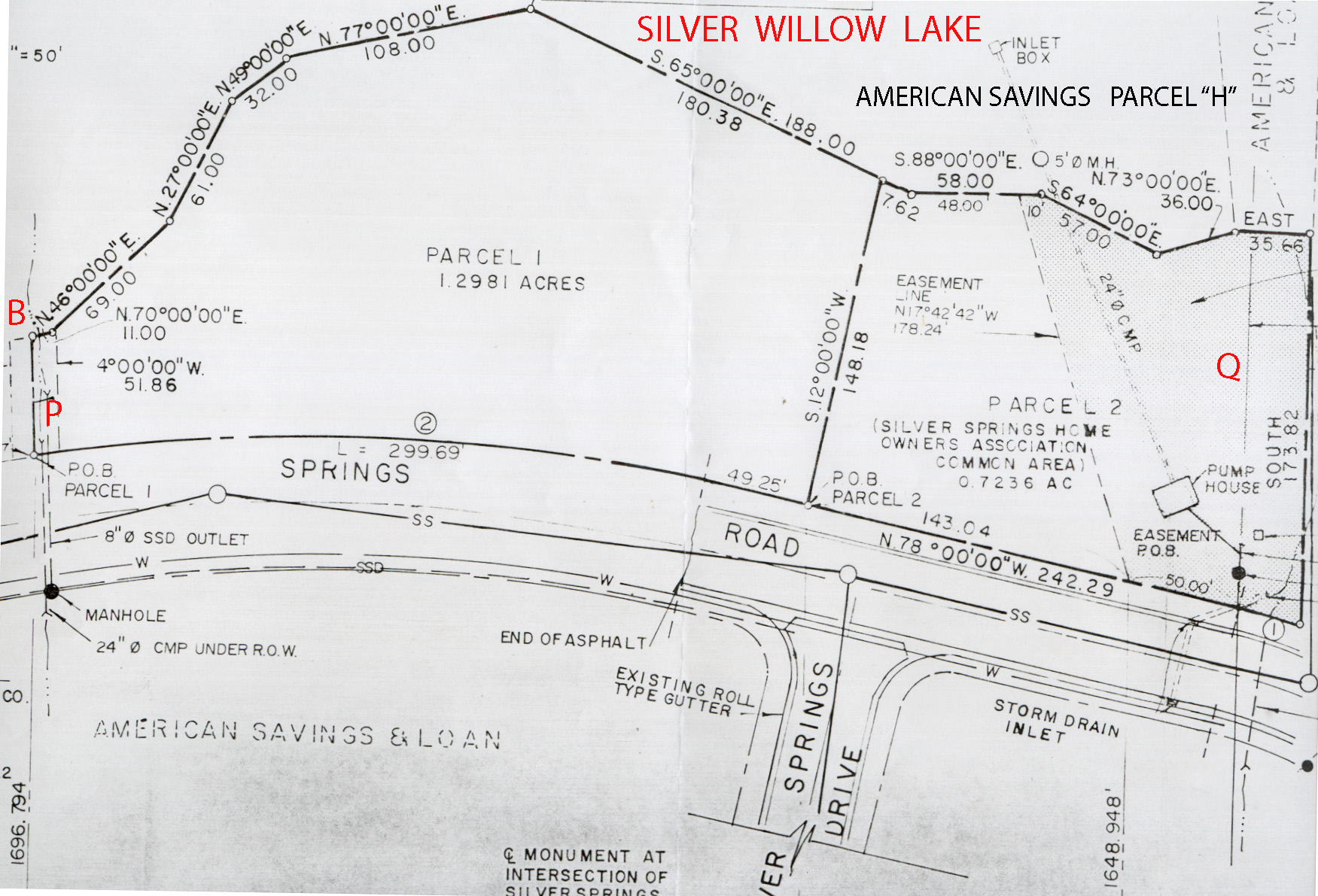 Storm Drain Inlet is marked above on Lot C- 173.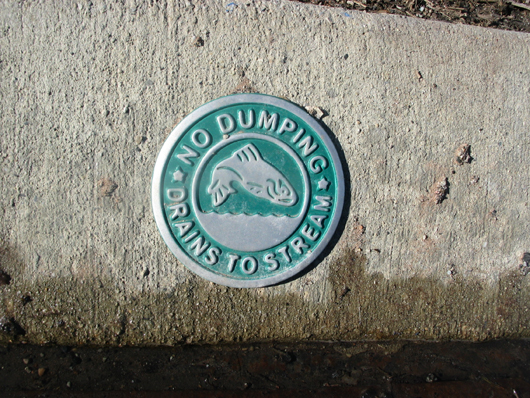 This Storm Water Medallion is imbedded in the street curb across the street from Lot C-173
These medallions are embedded in the cement curbs near most storm water grates throughout our Community. The inscription and image of a fish are to remind the public that the water from this system flows into streams and ponds and are not part of the sewer system.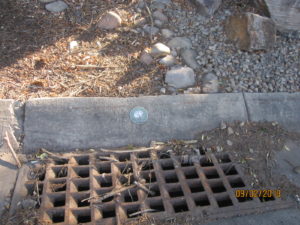 On north end of SSSF Lot 202
---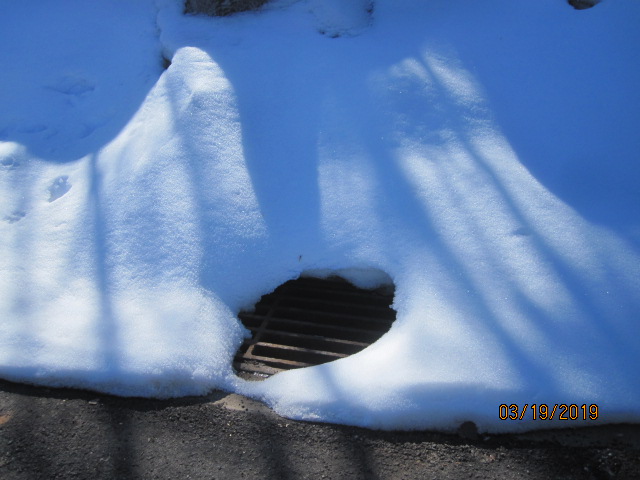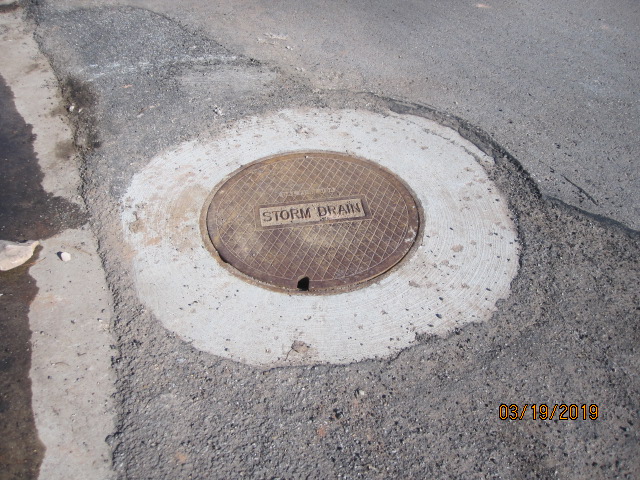 Corner of Silver Springs Road and Lake Front Court
---
A storm drain or storm water drain is designed to drain excess rain and ground water from paved streets, parking lots, sidewalks, and roofs. Storm drains vary in design from small residential dry wells to large municipal systems.  The drain gratings are fed by street gutters along roads. Most storm drains are provided with gratings or grids to prevent large objects from falling into the drain system. However, their bars are fairly widely spaced so that the flow of water is not impeded. Consequently, many small objects can fall through.
Many of these small objects are caught by the catchbasin, or sump, which lies immediately below the grating.   Water from the top of the catchbasin drains into the storm drain proper. The catchbasin serves much the same function as the "trap" in household plumbing in trapping objects.  Unlike the trap, the catchbasin does not necessarily prevent sewer gases such as hydrogen sulfide and methane from escaping.
Catchbasins may contain stagnant water during the drier parts of the year that can be used by mosquitoes for breeding.  The performance of catchbasins at removing sediment and other pollutants depends on the design of the catchbasin (e.g., the size of the sump).  Summit County routinely maintains the grates and pipes to retain the storage available in the sump to capture sediment. The County has a large vacuum truck to perform this task.
Silver Springs storm drains are operated independently from the sanitary sewer system.  The separation of storm drains from sanitary sewers helps to prevent sewage treatment plants becoming overwhelmed by the huge influx of water during a rainstorm, which can result in untreated sewage being discharged into the environment.  Many storm drainage systems are designed to drain the storm water, untreated, into rivers or streams. Special care must be taken to ensure the citizenry is aware of this, lest waste be dumped into the storm drain system.  Silver Springs storm drains are labeled with a medallion embedded into the curb to alert residents of their purpose.  Most storm drains are located at roadway intersections and on areas of the street where water channels run under ground from one side of the street to the opposite side of the street.  See short green lines that cross roads on Silver Springs storm drain maps below.
---
STORM WATER SOLUTIONS —  Silver Springs Community Subdivisions have a storm drain system, open channels, retention ponds (lakes), and ditches and creeks as conduits used to collect seasonal flowing water and snow melt. CC&Rs state that each individual homeowner is responsible for their own irrigation and anything within their property lines and easements.
Utah Department of Environmental Quality
---
BELOW THERE ARE THREE AERIAL MAPS SHOWING THE LOCATIONS OF OUR STORM DRAINS:
The green lines are the storm drain pipes that are in the ground.  They collect water from the storm drain inlets (metal grate openings) located in the curb gutters and are inter connected through different junction boxes ( shown in the purplish maroon color dots) and eventually either empty into the ponds in the community or the open ditch network.  The ponds are connected through on open ditch (channels) overflow network.  All the open ditches (channels) move the water east or north toward the Swaner Nature Preserve where it eventually makes its way into East Canyon Creek.  The original design of the storm drain system was done when the subdivision was created..  The storm drain system is separate from the sewer system.
On the maps 1 to 3 below, blue lines are property lines. SLS=Silver Springs SF lots; SOS=Southshore; MW=Meadow Wild lots. Etc.
Sssf-storm-drains-1………..SLS-1 up Phases 1A & C & D to SLS-47, the south east portion of SSSF..
Sssf-storm-drains-2………..SLS-1 up Phases 1B & E to top of SLS-201, 166, 76, 94, 91, 83, 84,  and along E. Meadows Dr. 01 up to 106 .
Sssf-storm-drains-3…………Top, central, Phase 1B, E. Meadows, Willow Loop, Fletcher Ct, Willow Lane, SS Rd.
---
Summit County Storm Water/MS4