Parcel C – Wetland Pond
Parcel C : NSS-B-WOS Entry No. 00616573 Book 1445 Page 612 "Wetlands" Open space of approximately 0.87 acre.
Northshore Silver Springs No. 1-G Plat B Lot: WOSOS 30 T 1S R 4E
Owned by the Silver Springs Master Homeowners Association Account Number 0272827.
This parcel is north of Hazelwood parcel D. Between North Shore Lots 39 & 40, north to Cutter Lane and west approximately 500 feet from Heather Lane to Highway 224. Parcel is wider at the north end. Contains a couple small ponds occasionally visited by ducks, moose, deer,  elk, and other wildlife.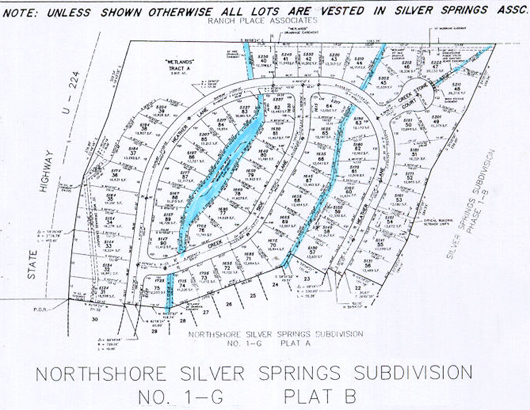 NSS-B-WOS may be shown as part of the area on the top left corner.
Need further clarification whether the 0.87 acre is part of the larger parcel
labeled  "Wetlands Tract A" which contains 2.912 acres