E- Willow Creek Estates
---
Willow Creek Estates (72)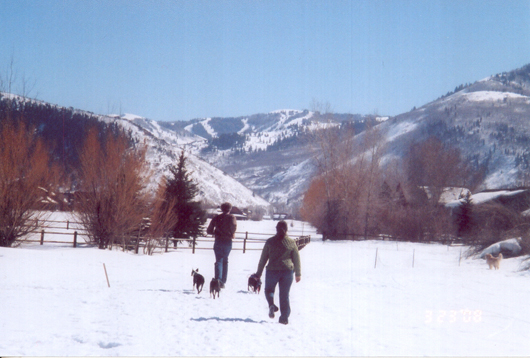 Silver Springs – Willow Creek Neighborhood Open Space Trail area – March 2008.
Background view is of Canyons Ski Resort and The Colony.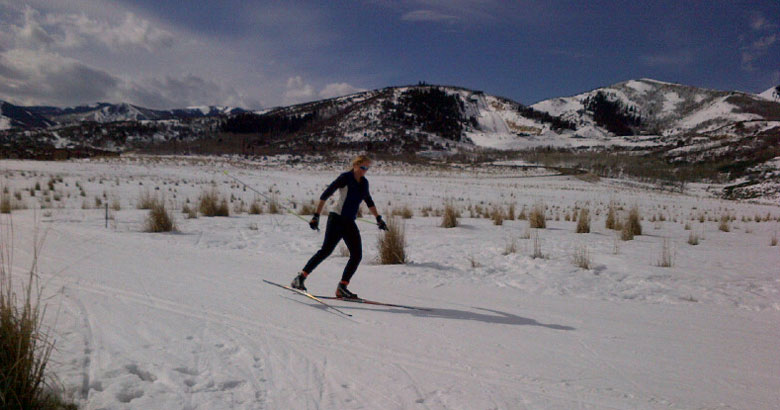 Slooshing Nordic style — Basin Recreation maintains a 5K Nordic trail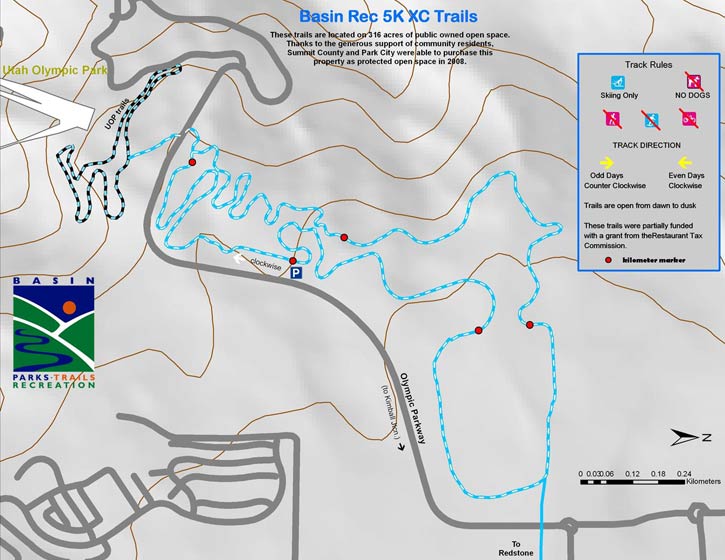 Trail Map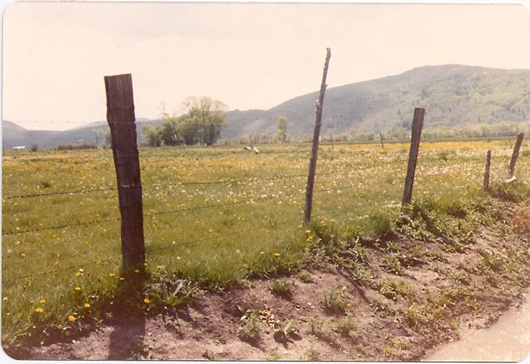 Note willow trees in background where our kids played in the treehouse.
– Photo courtesy of Kirsten Kobler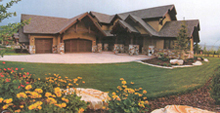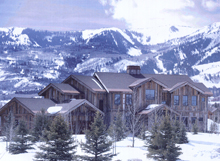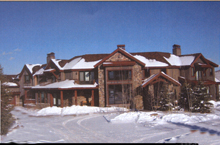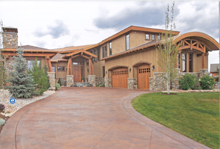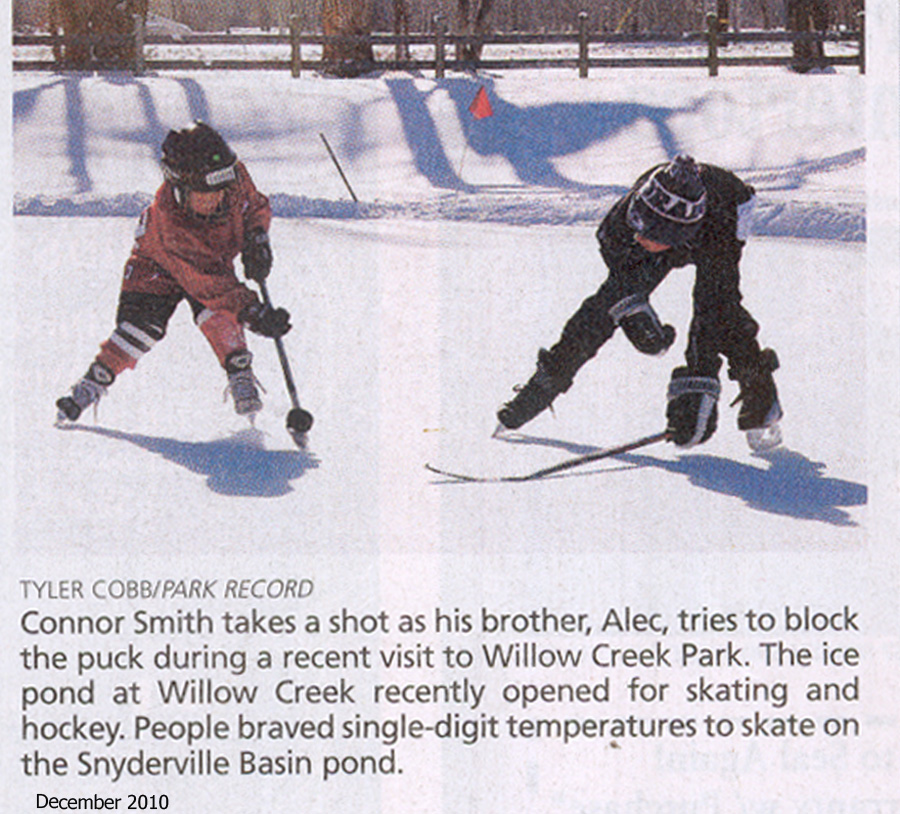 ---
WILLOW CREEK ESTATES has built great amenities for its residents.  Along with Summit County Recreation it has three playing fields, tennis courts, and basketball and volleyball courts, a fenced dog park, a dog swimming hole, and children's playgrounds.  The park, located on the southeast section of the subdivision has a pavilion and public restrooms.  The playground areas are separated into a 2-5 year old area and another playground for 5-12 year olds.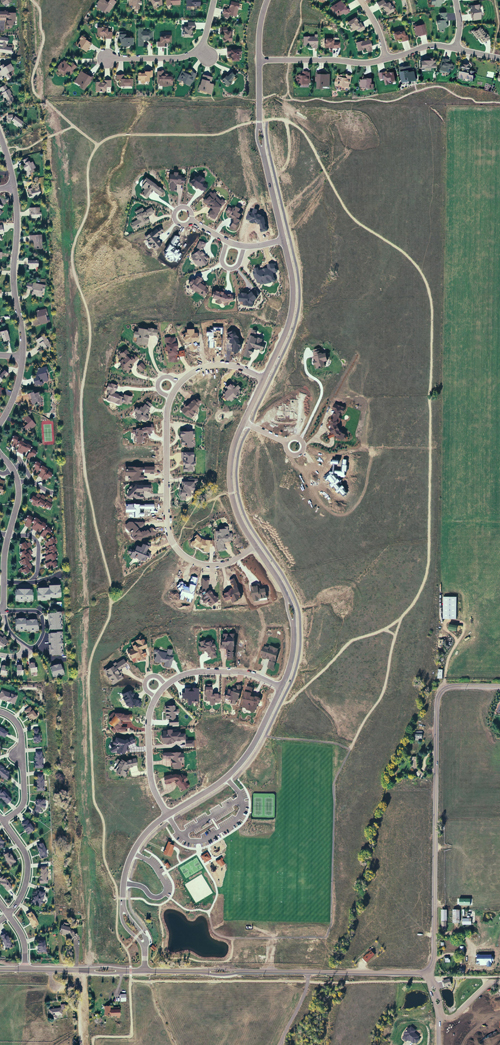 On the southwest section, along Old Ranch Road and Split Rail, there is a one acre irrigation pond available for dogs to swim around in and cool off. Or in the winter as an ice rink that attracts skaters and hockey players.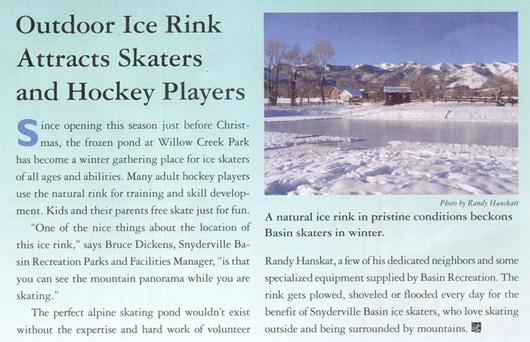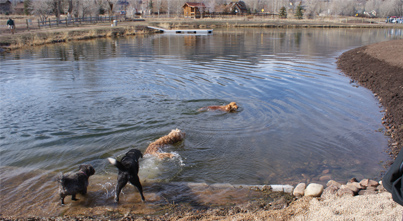 Ice Rink converted into Dog Swimming Hole,  c. 2007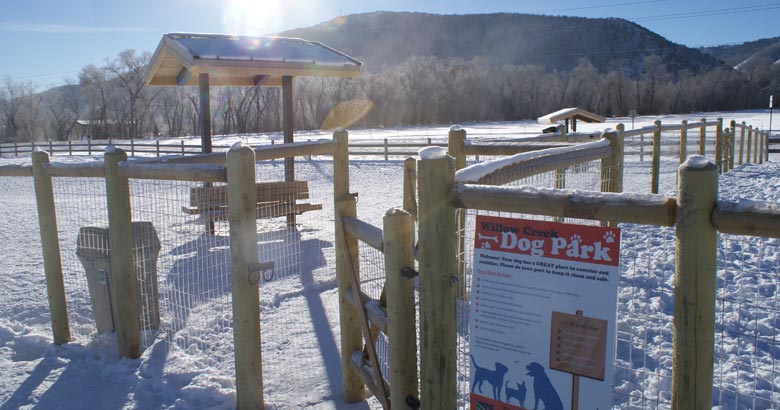 ---
Along the west border of the subdivision Willow Creek Estates shares with Silver Springs Subdivision an open area known as the McLeod Creek Trail available for jogging, walking your dogs, and in winter, for cross-country skiing.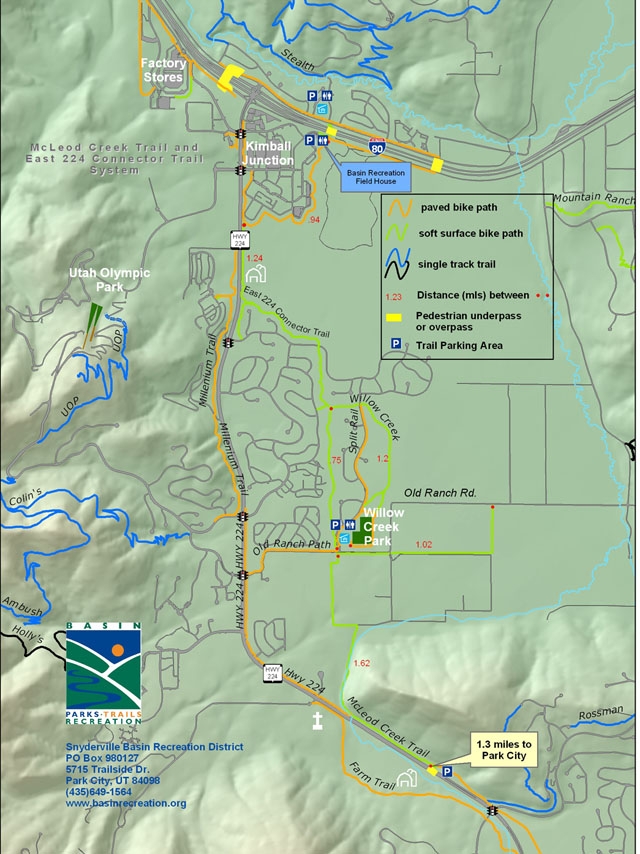 ---
2013 – February 27 Park Record Guest Editorial Page A-5  Edited version.
Proposed changes to Willow Creek Park pose safety issues in neighborhood.
---
WLCRK-1 as 4681 Pace Drive – Mitchell & Sharain Newman
WLCRK-2 as 4691 Pace Drive – Mason A. Gay & Shantel Strebel
WLCRK-3 as 4697 Pace Drive – Frank M. & Donna P. Plasso
WLCRK-4 as 4707 Pace Drive – Patrick Express LLC
WLCRK-5 as 4715 Pace Drive – Oscar Wood Moyle
WLCRK-6 as 4727 Pace Drive – Eileen Baynes Veghte
WLCRK-7 as 4731 Pace Drive – Michael J. & Elaina D. Dodd
WLCRK-8 as 4735 Pace Drive – B. John & Alyson S. Dingman
WLCRK-9 as 4741 Pace Drive – Robert D. Howson Jr.
WLCRK-10 as 4753 Pace Drive – Dan Zambrano
WLCRK-11 as 4757 Pace Drive – Mason A. & Shantel M. Gay
WLCRK-12 as 4765 Pace Drive – Terry L. & Mara L. Zieglowsky
WLCRK-13 as 4779 Pace Drive – JPMS LLC
WLCRK-14 as 4787 Pace Drive – Brian C. & Julie K. Schiller
WLCRK-15 as 4782 Pace Drive – Laurel F. Spencer
WLCRK-16 as 4770 Pace Drive – Christopher L. & Lisa R. Crowley
WLCRK-17 as 4762 Pace Drive – Daniel & Lisa Williamson
WLCRK-18 as 4746 Pace Drive – Howard & Tamara Hoyt
WLCRK-19 as 4720 Pace Drive – Scott & Trudy Cohen
WLCRK-20 as 4712 Pace Drive – Denis G. & Lori L. Forchic
WLCRK-21 as 4700 Pace Drive – Don Croce & Jill D. Rathburn
WLCRK-22 as 4686 Pace Drive – Gary & Cynthia Stewart
WLCRK-23 as 4801 Last Stand Drive – Kurt A. & Melissa L. Ellert
WLCRK-?? as 4806 Last Stand Drive – Andrew G. & Christy J. Manilla
WLCRK-24 as 4807 Last Stand Drive – Mark & Eileen Moeller
WLCRK-25 as 4813 Last Stand Drive – Kimberly Queen; Kenneth P. Gettinger
WLCRK-26 as 4819 Last Stand Drive – James R. & Barbara T. Stone
WLCRK-27 as 4825 Last Stand Drive – Vincent M. & Teresa F. Criscione
WLCRK-28 as 4837 Last Stand Drive – Ryan Sapp
WLCRK-29 as 4843 Last Stand Drive – Ryan Sapp; I Candy LLC
WLCRK-30 as 4855 Last Stand Drive – Larry G. MortensenWLCRK- 31 as 4867 Last Stand Drive – Bruce Heil & Elizabeth I. Hetherington
WLCRK-?? as 4872 Last Stand Drive – Jeff & Fiona F. Volmrich
WLCRK-32 as 4879 Last Stand Drive – Anthony & Jennifer Aliengena
WLCRK-?? as 4884 Last Stand Drive –
WLCRK- 33 as 4891 Last Stand Drive – Grant R. Gifford; Richard A. & Catherine Meffert
WLCRK-?? as 4896 Last Stand Drive – Butler Family; Frigid Mind Productions LC
WLCRL-34 as 4903 Last Stand Drive – Glenn C. & Susel Motas Weight; Mountain Shadow Development LLC
WLCRK-35 as 4909 Last Stand Drive – Ken G. & Julie Chahine; J Chahine Pilates LLC
WLCRK-36 as 4921 Last Stand Drive – Ron James & Maybeth Miller
WLCRK-37 as 4927 Last Stand Drive – Timothy P. & Jane B. Sullivan
WLCRK-38 as 4939 Last Stand Drive – Katherine G. Schlein
WLCRK-39 as 4945 Last Stand Drive – William K. & Nancy J. Haines
WLCRK- 40 as 4957 Last Stand Drive – Dan Jacob & Elizabeth Wells Reeb
WLCRK-41 as 4963 Last Stand Drive – Mark Charles & Kathleen B. Arnold
WLCRK-42 as 4969 Last Stand Drive – Daniel P. & Natalie B. Morgan
WLCRK -43 as 4981 Last Stand Drive – Andrew D. Cain
WLCRK-44 as 4974 Last Stand Drive – Ronald Vannucci Jr. & Lisa A. Vannucci
WLCRK-45 as 4950 Last Stand Drive – David Robert & Marleen Agnes Hood
WLCRK-46 as 4932 Last Stand Drive – James M. & Kathy A. Sillanoff
WLCRK-47 as 4896 Last Stand Drive -Mike & Lisa Herring
WLCRK-48 as 4884 Last Stand Drive -Shannon Kirby Baynes
WLCRK-49 as 4872 Last Stand Drive – Jeff & Fiona F. Volmrich
WLCRK-50 as 4830 Last Stand Drive – Douglas M. & Julie J. Nester
WLCRK-51 as 4806 Last Stand Drive – Andrew G. & Christy J. Manilla
WLCRK-52 as 1157 Cottonwood Lane – Michael & Deborah Buchanan
WLCRK-53 as 1171 Cottonwood Lane – Ben A. & Anna Mieke Vanderwerf
WLCRK-54 as 1183 Cottonwood Lane – Roger Goldman & Rana Tahtinen
WLCRK-55 as 1189 Cottonwood Lane – William Ken & Leanne Parry
WLCRK-56 as 1195 Cottonwood Lane – Timothy D. & Joanna Chesley
WLCRK-57 as 1207 Cottonwood Lane – Robert S. & Jacqueline Hibbard
WLCRK-58 as 1219 Cottonwood Lane – Eric A. & Karen D. Heiden
WLCRK-59 as 1231 Cottonwood Lane – Brodie M. & Heather L. Pollard
WLCRK-60 as 1236 Cottonwood Lane – Adam F. & Donna R. Austin
WLCRK-61 as 1224 Cottonwood Lane – Nicole MacLaren
WLCRK-62 as 1212 Cottonwood Lane – Johnson J. & Hillary Cooper
WLCRK-63 as 1202 Cottonwood Lane – Pamela Marie Fischer
WLCRK-64 as 1176 Cottonwood Lane – Charles F. & Maura M. Robbins
WLCRK-65 as 1164 Cottonwood Lane – Daniel & Carolyn Zambrano
WLCRK-66 as 1144 Old Rail Lane – Paul & Tine Dowland
WLCRK-67 as 1122 Old Rail Lane – Thomas Enright & Gail Laser
WLCRK-68 as 1100 Old Rail Lane – Michelle McCullough
WLCRK-69 as 1089 Old Rail Lane – Brandon & Antoinette M. Julian
WLCRK-70 as 1111 Old Rail Lane – Craig Reece
WLCRK-71 as 1133 Old Rail Lane – Fred & Colleen Mason Logan
WLCRK-72 as 1155 Old Rail Lane – James G. Abraham II
---