Consumer Tips
---

Does it matter what brand of gas I buy?
By Nino Padova
Oil companies pump barrels of money into the effort to convince you their product is better than the competition's. Besides the price and fancy marketing, though, there's little difference between brand name gas and what you get at the mom-and-pop pump up the block.
"They're basically the same fuel," says Marcia Goggans, a chemist for the Motor Fuel Testing Laboratory in Maryland. In 2007, the lab compared discount and brand-name gasolines and came to the conclusion that the two were nearly identical.
That's not surprising, because by EPA mandate, every gallon of unleaded must be bolstered with detergents to keep emissions and engines clean. Then consider that most gas comes from the same sources. Suppliers share pipelines, and what you put in your tank at Texaco may have been refined by ExxonMobil, or vice versa.
To top it off, dealers can buy their fuel on the open market. That means the generic station could be selling you one of the big boys' house blends, and for less. So go on, fill up and save a buck. Grab a pack of gum while you're at it—if you don't mind blowing some of the money you just saved.
Shop for the least expensive fuel near you with the AAA Gas Price Finder. Visit AAA.com/gasprices for more information.
---
 More Americans Bypass Banks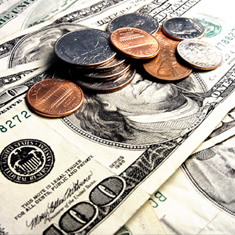 With the credit crunch making it tough to get a loan and the recession hammering interest rates for investors, "peer-to-peer lending," or "P2P," is becoming increasingly popular. P2P websites like Prosper and Lending Club link lenders lured by high interest rates with borrowers who need money for everything from home repairs to college tuition to debt consolidation.
P2P lending sites were forced to close briefly in 2008 when a new rule required them to register with the Securities and Exchange Commission. But most are back in business now–and thriving. There were $647 million in P2P loans in 2007. That's grown to $3 billion and is expected to nearly double to $5.8 billion next year, according to Celent, a consulting firm that tracks P2Ps.
Recent problems in the financial system have contributed to that growth. Despite the bailout funds big banks have received and the profits they've recorded, "the money's not getting into the street," says Chris Larsen, CEO of Prosper. As a result, people who need loans are looking for alternatives. Adds Larsen: "I think Americans are going to have to start participating more directly in the credit system," by making loans to one another through P2P sites instead of relying on banks.
The average investor at Prosper makes $3500 in loans and earns 9.38% interest. But with greater profit comes greater risk. While the site has taken steps to make loans safer for investors–including raising the minimum credit score required to borrow–some loans will default. Experts urge potential investors to approach P2P with caution, diversifying their portfolios into many small loans to minimize default risk.
While P2P lending is growing quickly, the service "still is proving itself," says Mark Schwanhausser, an analyst at Javelin Strategy and Research. Right now, he adds, more people are interested in borrowing with P2P than investing.
---
17 must-know tips for protecting your identity
By Dani Arthur
At some point, we've all wished we could change places with someone else, preferably someone rich and famous. Guess what? There are plenty of people who'd love to be plain-old you, and they'll go to great lengths to get their hands on your identity.
More than half a million people find themselves victims of identity theft each year. If you're an ID thief's mark, you'll likely face years of lost money and added frustration as you work to clean up the mess.
The best protection is prevention. Here are some tips to safeguard your good name:
1. Be watchful of shoulder-surfers. At ATMs and phone booths, thieves will stand close enough to see PIN numbers punched in by users.

2. Mind those credit card receipts, especially since only a few credit card receipts have stopped listing full account numbers and expiration dates. Put the charge slip copies in a safe spot until your credit card bills arrive. Even the smallest discrepancy in your statement can signal a problem. Sometimes thieves make insignificant purchases and continue to make larger and larger charges.

3. Buy a shredder and use it. Shred everything, including credit card receipts (after you've reconciled your bill), old bank statements, medical statements, everyday bills, and pre-approved credit card offers. Any document that has personal financial information on it can give an identity thief a foothold into your life.

4. Write clearly on all credit applications. Consistently and completely fill in all credit and loan applications using your full name, first, middle and last. Every bill that comes to your house should be addressed exactly the same.

5. Monitor your credit accounts carefully, so you'll know if a bill's missing or unauthorized purchases have been made. Close out unused credit cards. Cutting them up is not enough.

6. Limit the number of credit cards you carry. The fewer cards you have, the easier it is to track them.

7. Get a credit report at least once a year and clean up any errors. Look for personal information and credit accounts that are not yours. Credit bureaus make mistakes.

8. Never leave paid bills in your mailbox for the mail carrier to pick up. Drop them off at a post office box.

9. If you're moving, contact all your creditors and update them of your address changes immediately. You don't want credit information and new credit cards being delivered to the wrong address. Likewise, if your credit card expires and you don't receive a new one, call your creditor immediately.

10. Protect your Social Security number. Only give your Social Security number when absolutely necessary. Avoid using it as your account number whenever possible. If merchants demand it, ask for an alternate number and take your business elsewhere if they insist on writing it on your check. Likewise, don't print it on your checks.

11. Never carry your Social Security number and driver license together in your wallet.

12. Don't provide your Social Security number, bank account number or credit card number to anyone who contacts you through telephone solicitation.

13. If you're shopping with an online merchant for the first time, look for the Trust-e symbol or a Better Business Bureau online seal prefix. These indicate the seller has been independently audited and deemed trustworthy.

14. Make sure any online credit card charges are handled through a secure site or in an encrypted mode. You'll know you're on a secure site if the Web page on which you conduct your transaction begins with https instead of the usual http.

15. Only shop on Web sites that offer a privacy policy. Know how your personal information will be handled. Print out privacy policies, warranties, price guarantees and other important information.

16.Leave home with only the credit card or checkbook that you plan to use.  Lost and stolen wallets, checkbooks, and credit cards account for about 43% of the personal information thefts.

17.Keep an eye on your credit card.  A split second is all the time a dishonest clerk needs to swipe your credit card twice,  once through the credit machine and once through a card reader that stores your card information for later use. Do not let anyone walk away with your card.  Always keep it in your sight.

---